What is iPaaS?
iPaaS is a single, centralized tool that unifies the integration of applications used within a company and automates data flow.
Start interactive tour
View demo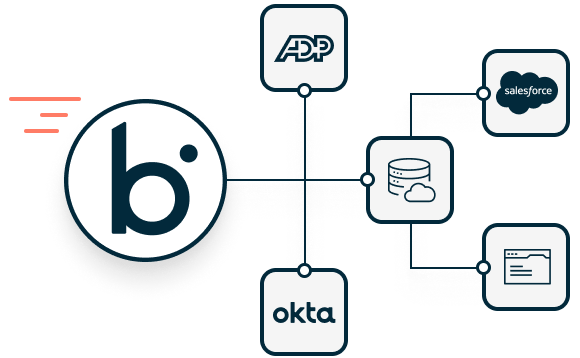 What Should An Integration Platform Provide?
Unified Connectivity Platform

A full suite of connectivity and data management tools in one centralized platform

API Management

Securely build, deploy, and manage APIs without complexity

Trusted Data

Master Data Hub to synchronize single "golden records" to ensure data quality and visibility

Total Visibility

Easy to view dashboard visibility for all internal and external processes

Trading Partner Collaboration

B2B/EDI functionality to manage trading partner networks better

Workflow Automation

Easily build processes spanning multiple applications, people, and devices

Modern Tooling

Low-code/no-code tooling to self-service integration building by business users

Enterprise-grade Governance

Compliance, security, and central control of integrations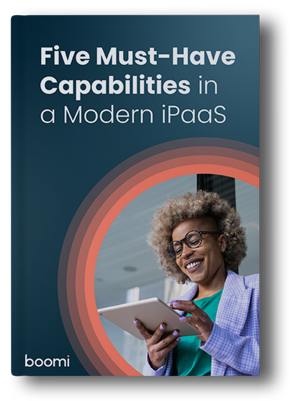 Five Must-Have Capabilities in a Modern iPaaS
In this guide, learn what Constellation says about:
Legacy and emerging challenges to using data
Key iPaaS recommendations
What to ask when evaluating vendors
Download e-book
The Boomi Advantage
As organizations seek to take advantage of the speed, agility, and economics of today's cloud-first world, it's critical to have a modern integration strategy that utilizes a cutting-edge platform. Boomi is the faster alternative to complex, heavyweight suites and lightweight point solutions that can't deliver what's next in your digital transformation journey. Learn how iPaaS can help you derive a greater return on investment and drive better business outcomes.
Experience

More years of experience and expertise successfully migrating companies legacy integration platforms to eliminate modernization risk

Centralized

Manages all integration requirements and simplifies the complexity associated with today's application sprawl

Trust worthy

Trusted by 20,000 customers and counting - more than any other iPaaS on the market today

Future proof

Future-proofs integrations to ensure they will always work through frequent SaaS product updates

User friendly

Recognized for its unique blend of user-friendliness and scalability, making it an ideal solution for expanding businesses

Extract Value

Ensures businesses extract the total value from all IT investments
Single-instance, multi-tenant architecture
The flexible architecture of iPaaS enables multiple organizations to share underlying computing resources securely – saving time and money. The iPaaS provider manages and updates the software and infrastructure while deploying upgrades regularly across the customer base. This eliminates the need for customers to purchase, implement, and manage hardware and software.
Pre-built connectors and recipes
Pre-built connectors of common integrations such as Salesforce and NetSuite to drastically reduce development time, so you see faster time to value with critical business systems.
Boomi AI
A radical new way of connecting systems, processes, data, and people in a conversational user experience by leveraging the anonymized metadata from over 200 million integrations.
Enterprise and B2B/EDI integration 
Boomi supports common data transmission methods and provides universal translation capabilities for non-standard data formats. It also supports a wide variety of enterprise integration scenarios, including B2B/EDI, standards-based web services, and industry-specific standards such as HL7 for healthcare.
Event-driven architecture 
Boomi Event Streams allows organizations to create more resilient, scalable, and real-time integrations than traditional point-to-point integration processes – all without the inherent complexity and overhead traditionally associated with event-driven architectures.
Crowdsourced Intelligence and Community 
Collecting anonymous platform usage metadata, aggregating it, and making it available to the Boomi community reduces the time to configure, test and implement integrations. For example, as you map fields for each integration, Boomi automatically makes suggestions on how best to build it based on the experience of other users – enabling you to integrate systems faster and with fewer errors.
Distributed run-time 
Unlike traditional, legacy middleware solutions where all integration data passes through a single bus and lightweight cloud-only solutions, Boomi integration development and management is cloud-native with the ability to deploy anywhere. Integrations can be packaged as run-time engines in the cloud, on-premises, at the edge – to address customer-specific security, data sovereignty, and latency considerations.
Centralized API management 
Boomi provides an intuitive, web-based console for creating, deploying, monitoring, and managing integrations across the enterprise. Customers gain a single, centralized view of all integration processes.
Predictable, affordable pricing
Boomi's subscription service offers customers a predictable, transparent, and understandable pricing structure – with no surprises. Customers purchase only the functionality and services they need.
Avoid the digital transformation failure trap
Explore how a modern integration and automation platform addresses:
"Islands of applications" as a result of disparate software as a service apps
Fragmentation from exponential growth in data, locations, sources, and more
Generations of legacy technology that must be integrated with modern apps
Download e-book
Our Solution
Custom Coding
ETL vs iPaaS
ESB vs iPaaS  
Centralized iPaaS
Get started with intelligent integration and automation.