Boomi Certification Paths
Competency and Success
Professional Developer Certification Exam
Professional Architect Certification Exam
Production Administrator Certification Exam
Operations Administrator Certification Exam
Boomi On-Demand Training is Now FREE!
Competencies are at the Core
Dell Boomi's redesigned training courses are built on the competencies you need to be successful in your role.
Competency-based training courses – self-guided or instructor-led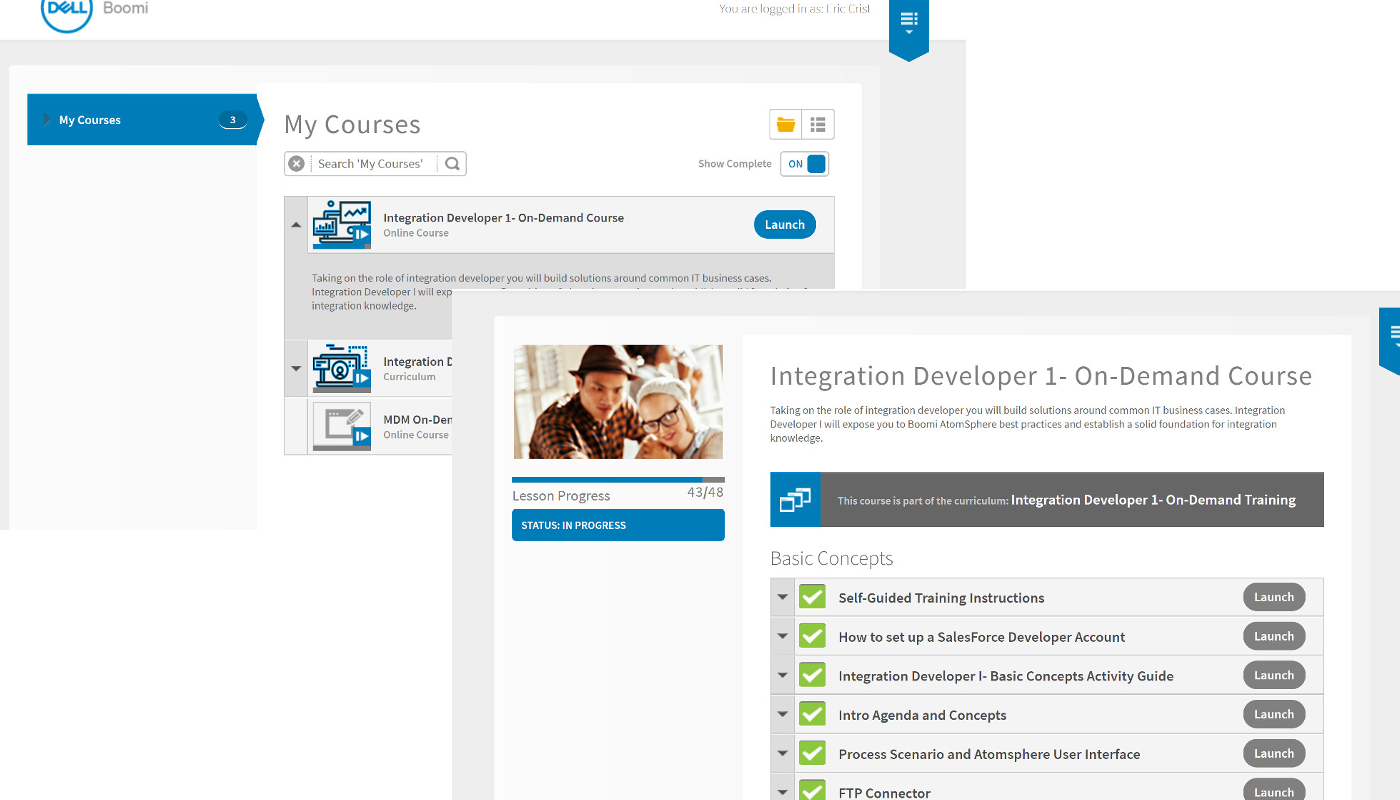 On-Demand Learning
Learning is available 24/7 and fits into your busy schedule.
Attend training from your Phone, PC, or Tablet.
Ease of Use. Training on your timeline – get trained and certified within a week or across several weeks depending on your availability.
Instructor-Led Training
Interaction with live instructor and real-time question and answer ability.
Structure and pre-defined schedules allow you to pull away from day to day activities and focus on learning.
The Boomi Training Community
Learn about training and certifications, access the Learning Management System (LMS), meet our team, and post a question for help.
Upcoming Classes
Live and interactive with hands-on experience
Focus is on business scenarios to reinforce your learning
Public classes delivered remotely
Custom training available via JumpStart Packages
5
Developer 1 (7:00 AM-11:00 AM ET)
6
Developer 1 (7:00 AM-11:00 AM ET)
7
Developer 1 (7:00 AM-11:00 AM ET)
12
Developer 2 (7:00 AM-3:00 PM ET)
13
Developer 2 (7:00 AM-3:00 PM ET)
19
Developer 1 (11:00 AM-3:00 PM ET)
Developer 3 (7:00 AM-11:00 AM ET)
20
Developer 1 (11:00 AM-3:00 PM ET)
21
Developer 1 (11:00 AM-3:00 PM ET)
26
Developer 2 (11:00 AM-3:00 PM ET)
Developer 3 (11:00 AM-3:00 PM ET)
27
Developer 2 (11:00 AM-3:00 PM ET)