Data is at the core of every application and business system in your organization, from customer account management to marketing,finance, supply chain operations and more.
Boomi Master Data Management (MDM) provides the solution to represent data consistently across your organization, enabling your data stewards to model, match, synchronize, cleanse and enrich data across domains. And it scales to accommodate growth as your data volume, applications and business user demands continue to increase.
Increase data accuracy and consistency
Improve application usability and process efficiency
Accelerate time to insight with improved analytics
Reduce cost associated with auditing and fixing bad data
Boomi MDM uses visual modeling and intuitive business rules to improve data quality across any combination of cloud and on-premises applications.
DEFINE
Rapidly model master data entities through a visual experience with no coding necessary.
DEPLOY
Add your models into the MDM repository then identify which source systems will interact with them.
SYNCHRONIZE
Configure process flows that enable data to move between MDM and the integrated source systems.

STEWARD
Create business rules to alert your team and assist with resolving duplicates, fixing data entry issues, and correcting erroneous data.
Cloud Master Data
Management
Boomi MDM provides everything you need to address the three components of a unified data management strategy: application integration, master data management, and domain-specific data quality services.
In the cloud, there's no hardware or software to manage, upgrades are automatic, and best of all, the Boomi platform allows you to manage your data across your cloud and on-premises applications.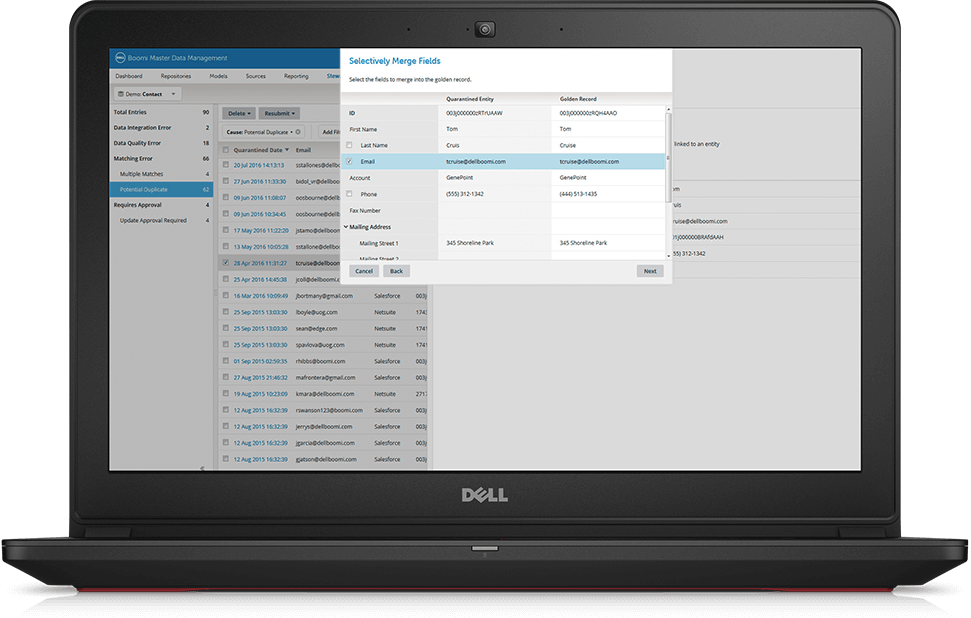 Get Started with Boomi MDM
We are ready to show you how Boomi can make your data more accurate and actionable regardless of where it resides.