By Mark Emmons
Boomi highlights business thought leaders, the trends they see in the market, and the exciting work their organizations are doing. And their hot takes on food integrations, too.
When Ken Schmitt meets with potential clients, he often hears how they're desperately trying to solve a specific problem involving integration and data management.
That's when he suggests they should consider the bigger picture.
"Companies can have a challenge seeing the full impact of sound integration and what that means for capital outcomes throughout the business," said Schmitt, a managing partner at Houston-based consulting firm TechStone Technology Partners LLC. "We spend a lot of time talking through business cases around the cost reductions they'll see eliminating hardware, the operational improvements possible around things like engineering, finance, the supply chain, and how they can sell new products faster.
"We have a heart-to-heart with them about the real value of integrating systems and mastering their data," he added.
Encouraging that kind of forward-thinking is why TechStone, which Schmitt helped launch in 2004 and is a Boomi Elite Partner, now has clients across North America. TechStone's expertise includes helping enterprise-level companies address connectivity challenges slowing down their businesses.
Achieving great outcomes, he said, begins with a strong technology architecture plan.
"You wouldn't pick up a hammer and nails and start building a house without a blueprint," said Schmitt, who has spent 25 years in the middleware space. "Our role is to help architect a good design and implement it."
Schmitt talked recently about why Boomi is the most powerful tool in the TechStone kit, how businesses suffer when they undervalue integration, and the importance of experience in consulting. Here are some lightly edited portions of our conversation.
In the spirit of connecting things, what's your favorite food integration?
Ken Schmitt: There's a well-known place in Houston called Blood Bros BBQ, owned by a Vietnamese family. They do traditional BBQ. But they specialize in a fusion of Asian with BBQ. They've got these sticky ribs with peanuts and a Thai sauce that is out of this world. They also do brisket fried rice, where they cook the rice in brisket fat. It's just a great combination of foods.
How would you explain your role to a neighbor?
Ken Schmitt: That's such a funny question because people generally don't get it. My father has asked me a million times, and I think he finally gets it. Most people think I can fix their laptops. I tell people that we help companies integrate their systems. We implement their software so that systems and applications can communicate and they can do business faster and better. That's as simple as I can put it. But I can say that, and sometimes somebody will say: "But I've got a problem with my hard drive."
Why has integration become so essential in business today?
Ken Schmitt: Without it, your systems can't communicate. It's fundamental because organizations have purchased or developed systems that don't naturally communicate with each other. You end up with a vast array of different systems and applications, even in small organizations, that have to be integrated. Sometimes, it's looked at as "just" plumbing. It's not very sexy. But it's extremely vital. Companies kind of assume that it's going to be there. And it's the wrong assumption because nine out of 10 times when we look at what a company has rolled out, it's generally not according to best practices. It's not efficient. And it requires a lot of cleanup to improve data quality and architecture.
Can you explain why TechStone and Boomi are a "better together" story?
Ken Schmitt: Boomi is great to use. It's intuitive. It's lightweight, robust, and easy to implement. It helps our clients. That's why our revenue stream is probably 80% Boomi right now. We're a unique partner in that our practice is skilled in all areas of Boomi. We've done hands-on Flow implementations. We've done tons of integrations with ERP systems, from SAP to Oracle to J.D. Edwards to Microsoft Dynamics and others. We also do a lot around EDI, and Boomi's Master Data Hub is near and dear to us. We bring clarity to companies about if they buy one of Boomi's competitors and try to implement it themselves, they'll need to hire a bunch more people with expensive, specialized skills and see a higher total cost of ownership. We help them understand the value of TechStone and Boomi together.
What trends does TechStone see in the marketplace?
Ken Schmitt: It's survival of the fittest. In difficult economic times, companies that are willing to change and adapt are the ones that survive. The companies that hunker down and don't change will cease to exist. Our client base continues to evolve and adapt and go forward with projects despite difficult times. I think you will see a dynamic change in the integration space because of AI. Boomi is in a really good position because it already leverages Boomi Suggest by capturing the data of millions of integrations from clients. Now with Boomi AI, I'm sure Boomi will be planning some exciting things around what they can do with all that data to help companies build out integrations.
Most of us have twists and turns in our career trajectories. What journey led you to where you are?
Ken Schmitt: I majored in advertising but graduated in the middle of a recession. I wanted to get into a recession-proof industry. I joined a company providing services around implementing hardware networks. Then I got involved in the software consulting space just as ecommerce was blowing up. So, I came to middleware from a completely different direction. I'm definitely not a coder. But over the years, I've developed an aptitude for understanding business processes and how to match technology with use cases so you get the most from data.
Why is that kind of experience so crucial in consulting practice?
Ken Schmitt: All businesses say they do things differently, but most actually don't. There are clear fundamentals for every large business. You see a lot of the same scenarios over and over again. I have a crew of buddies who have been in the industry for about the same amount of time, and we talk about how we'll see companies go down the same rabbit hole. Sometimes, you can jump in and pull them out. Sometimes you can only watch because you don't have that authority. But do this long enough, and you start seeing things in cycles. That's one of the great things about getting older. You see what to avoid and what to pursue, and what works and what doesn't.
Up Close With Ken Schmitt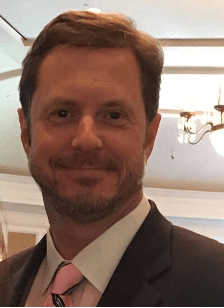 Role: Managing Partner at TechStone
Home: West University Place, Texas
Family: Married with two teenage daughters
Education: Bachelor's degree in advertising and marketing from the University of Texas
Career: Extensive technology background includes nearly 19 years at TechStone, where he leads all operations, corporate vision, and strategy
Cool Thing About Ken: He's the lead guitarist for a hard rock group called Vital Signs, which started as a cover band and now plays regular gigs with their material. "Our wives aren't so happy because we play really heavy and loud. They recall when we did a Beatles song, Queen, or Tom Petty. We're happy, but the wives can't dance to it quite as easily."
Watch a fireside chat featuring Ken Schmitt and Kurt Witt from Quanta Services to learn more about how TechStone helped a leading manufacturing company navigate the challenges around the complicated mergers and acquisitions process.