By Ken Jaroenchisakon Ayush Parashar Dana Burkart
Imagine a world where big changes come easy. Where if you can dream it, you can build it. A world where intent becomes action, quickly and directly.
Imagine a world where customers, partners, and employees get the insights they need to realize their goals and ambitions, every moment of the day. And a world where, if you notice people's needs changing, you can adapt in days or even minutes, not months or years.
Imagine taking time and trouble out of your IT equation. Imagine connecting and automating all that needs to be connected and automated, kicking off projects in just the time it takes to read these words.
Imagine doing all this with everyday language and with the teams you already have.
Boomi is here to realize all these things.
Today, we are excited to announce Boomi AI, a conversational user experience that harnesses the power of generative AI to design integration processes, APIs, and data models to connect applications, data, processes, people, and things.
Learning from the anonymized metadata of over 200 million integrations from approximately 20,000 customers, Boomi AI translates natural language requests such as "connect my CRM to my invoicing system" into action, saving organizations weeks or even months of work.
Boomi AI radically simplifies the work of building integrations and automations and of managing integration-related IT operations. It empowers IT organizations and business teams to:
Automatically build integrations, APIs, and master data models
Help monitor and manage software operations
Orchestrate processes to simplify tasks and improve engagement
Boomi AI Changes the Game
Around the world, organizations are working hard to deliver innovative products and services to deliver the great experiences expected by customers, partners, and employees. At the same time, though, these organizations are burdened by technical debt that consumes 40% of IT budgets on average and raises the costs of even the imaginative new digital initiative by 10-20%. IT organizations need a faster, more automated way to build connections and automate workflows and apps, so they can achieve their boldest ambitions and escape the tar pit of technical debt.
Boomi AI is the intelligent workhorse organizations have been missing. Boomi AI dramatically accelerates the critical work of building connections, automations, and end-user experiences — work that is critical for application modernization, cloud migration, workflow automation, and digital transformation. Boomi AI is the intelligent game changer organizations need to move with the speed and accuracy required for winning in today's hypercompetitive markets.
An AI-First Approach To Driving Organizations Forward
Boomi AI represents the next major leap forward in the evolution of integration technology.
Boomi disrupted the integration market more than two decades ago when we introduced the first integration platform as a service (iPaaS) — a cloud-native platform that offered a low-code, drag-and-drop interface for building integrations. The shift to cloud-native, low-code development dramatically reduced IT development times and expenses, freeing organizations to build mission-critical integrations more quickly than ever before.
Then, 12 years ago, we revolutionized the integration market again when we introduced Boomi Suggest, providing AI guidance for building integrations and data transformations. While fully protecting the confidentiality of customer data, Boomi Suggest discovered patterns and best practices in the anonymized metadata of hundreds of millions of integrations, offering guidance that streamlines the work of building integrations and dramatically reducing development time.
More recently, we yet again disrupted the integration market when we introduced ML-guided integration generation with an integration wizard that asks a few questions, then builds an integration that customers can review, fine-tune if necessary, and deploy. Our generative-AI wizard draws on over 20 TB of metadata to build the integrations customer describe in their answers.
As powerful as suggestive AI is, and as helpful as ML-guided wizards are, Boomi AI represents a major leap forward in the evolution of integration and automation. Instead of merely suggesting, Boomi AI builds. Instead of merely guiding, Boomi AI acts.
Boomi AI can:
Design Connections: Boomi AI can design integration processes, application programming interfaces (APIs), and master data models with built-in best practices from millions of successful use cases, all by giving Boomi AI a quick command like, "Connect my CRM and invoice systems."
Optimize Operations: With Boomi AI's actionable intelligent insights, users can solve problems proactively, facilitate predictive maintenance, automate updates, and allocate optimal resources to enable software to efficiently self-manage itself. Boomi AI's insights, like "A data attribute in Salesforce has changed. Would you like to apply it across your systems?" make previously menial tasks quick and easy.
Orchestrate experiences. Imagine telling the Boomi platform, "Automate invoice processing for our new EMEA operation." With Boomi AI, the platform knows which systems to connect and how to orchestrate processes across applications. The result? Your AP department saves valuable time and payment delays are eliminated, resulting in higher vendor and employee satisfaction.
We call Boomi AI an AI-first solution, because we want customers to turn to it first as a fast, reliable way of doing the game-changing work that drives businesses forward.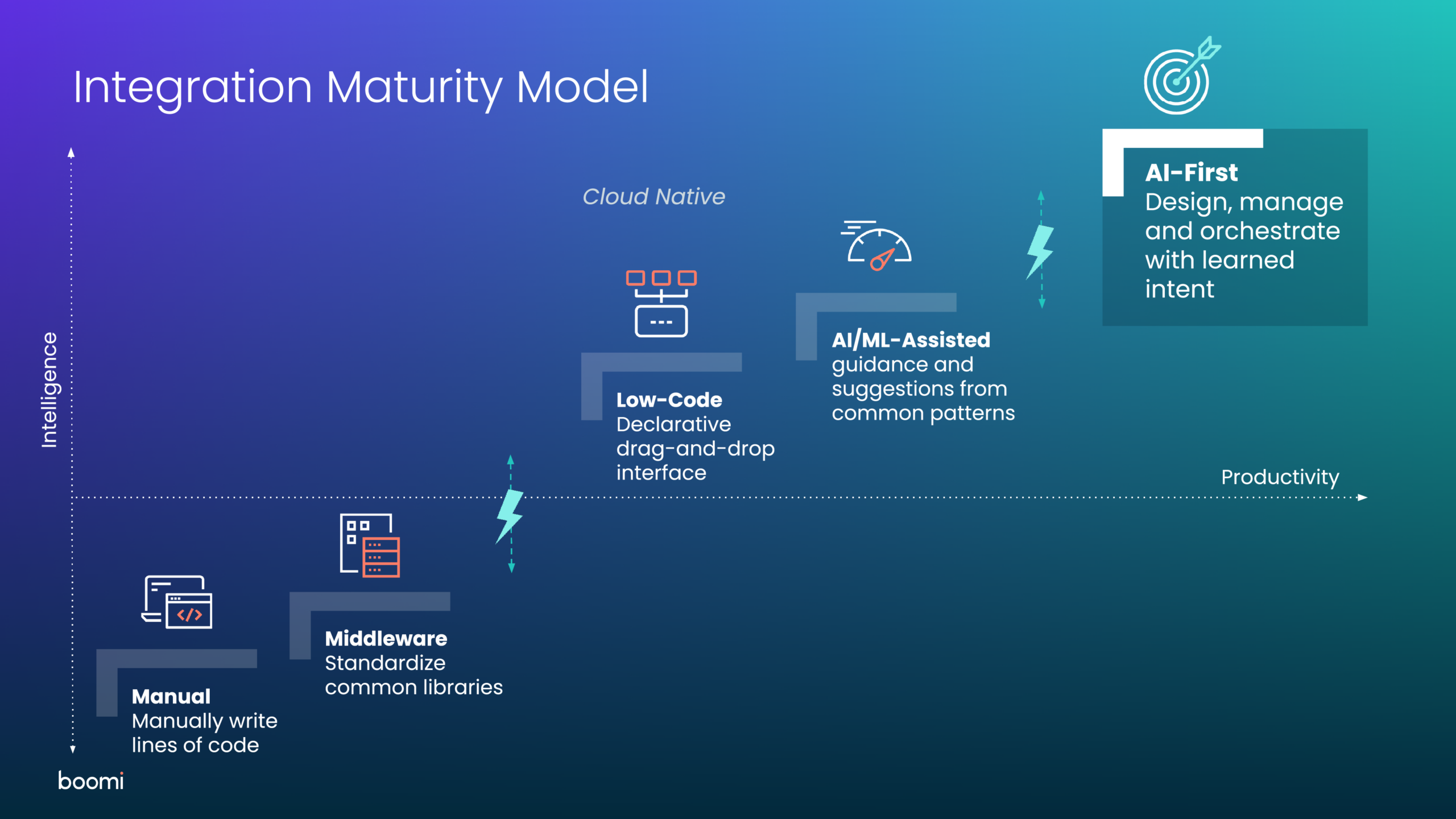 Generative AI That Shortens the Distance Between Idea and Action, Insight and Result
Because it offers a natural language interface, Boomi AI makes the capabilities of the Boomi platform available to the broadest possible community of authorized users: integration engineers, tech-savvy business users (citizen integrators), business subject matter experts, and more. It turns the ideas of this vast pool of people into developers, building the connections, automations, and apps needed for the most urgent business outcomes.
As a result, more people can do more, quickly and easily. And business and IT can collaborate more closely than they ever have before, since they are no longer burdened by costly, multi-month projects, prolonged development cycles, and technical requirements that have to be derived, slowly and with much discussion, from business requests that — at the highest level — were clear from the start.
Using Boomi AI, business and IT can work at a much faster pace, turning visions into practical solutions that make the most of the investments already made and strategies already adopted. Data silos can be connected, bridges built between far-flung applications, and processes automated to streamline business and promote customer loyalty. And that's only the beginning….
Learn more about Boomi AI, a suite of capabilities that harness the power of generative AI to integrate and automate faster. And for more insights on the value of generative AI, read "Why an AI-First Strategy Is Essential for Success."