By Bruce Tierney
After significant investment in research and development to deliver the future of iPaaS, Boomi has been recognized by a top analyst firm. We're proud that the Forrester Wave™: Integration Platforms As A Service, Q3 2023 gave Boomi the highest marks possible in the roadmap criterion (5/5).
Boomi also received the top scores possible in the vision, pricing flexibility and transparency, partner ecosystem, and wizard-driven integration criteria.
Forrester states: "[The] Boomi Platform is a good choice for customers seeking a well-rounded iPaaS with ease of use and modular bundles for data integration and lightweight low-code" and also notes that Boomi's strong vision emphasizes "AI to improve iPaaS UX."
A Strong Performer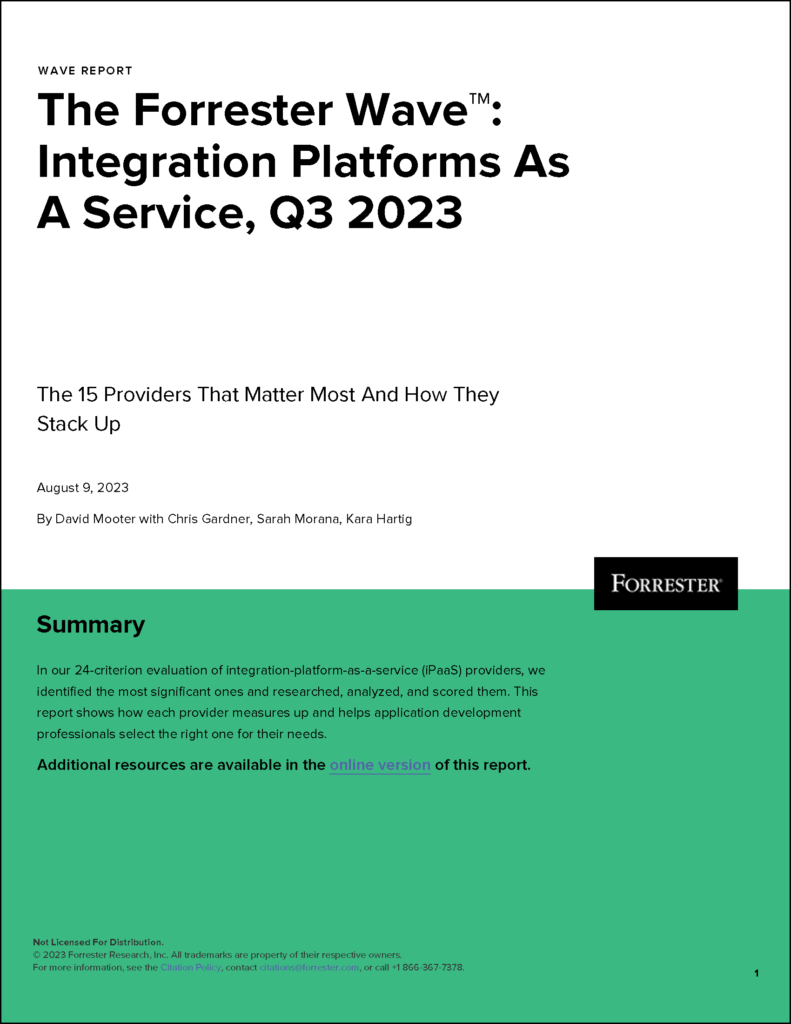 The Forrester Wave for iPaaS offers valuable insights into the many factors that businesses must address to deploy intelligent integration and automation solutions to fuel their digital transformation. These factors include:
The explosion of software as a service (SaaS) applications
The need for integration aligned with API-led architectures
The increased demand for automation throughout businesses
"IT leaders use integration to breathe new life into legacy systems of record that struggle to keep up with cloud-native and real-time architectures, averting an expensive rip-and-replace migration from systems with untold years' worth of complex business logic baked into them," Forrester wrote.
"With its speed, ease-of-use, and lower total cost of ownership, approximately 20,000 global customers across industries trust and rely on the Boomi platform to easily deliver fast and complete business outcomes. Our platform has the full breadth of capabilities organizations need to eliminate today's modernization chokepoints and accelerate achievement of their digital transformation goals."

— Ed Macosky, Chief Product and Technology Officer, Boomi
New Innovations
Since Forrester performed its assessment earlier this year, Boomi has deployed several major innovations and enhancements:
Event Streams: A fully managed, multi-tenant enterprise message queuing and streaming service that allows organizations to create integrations that are more resilient and scalable in real-time than traditional point-to-point integration processes, Event Streams is available as part of the Boomi platform.
Boomi Spaces: Boomi expands the power of integration by enabling customer' technical teams to create simplified portals for non-technical users to configure, schedule, run, and monitor processes without needing IT.
New Security Certifications: Boomi received more third-party accreditations for security and privacy, including ISO/IEC 27001:2013 and ISO/IEC 27701:2019.
And the innovation keeps coming. Boomi AI, a first-of-its-kind, simplified user experience that harnesses generative AI to integrate applications, data, processes, and people, is a recently announced game-changer for connectivity that will create faster business outcomes
We can't wait to show you what comes next as we continue to deliver more innovations to accelerate your digital transformation journey.
Read the Forrester Wave for iPaaS to see why the analyst firm positioned Boomi as a Strong Performer.