By Boomi
This article recaps the Boomi Integration and Automation Platform August 2023 release and highlights recently delivered product features. For a full list of what's included in the release, see the detailed release notes.
Let's take a look at the highlights in this release.

Integration
Quick Start Experience
Boomi has incorporated an exciting enhancement to our quick start offering to improve the user experience.   Users can visually understand the progress of setting up a new integration job via the 'progress loader' when creating an integration process.  This new feature provides a simple way to visualize the status of their iPaaS integration setup with the ability to effortlessly exit out of the progress wizard if it's not needed. 
Keeping these wizard-driven quick-start processes organized is now easier.  Boomi has listened to our clients and moved the storage of these quick-start processes into distinct 'my process'  folders instead of them residing in the root folder, making these wizard-driven processes reusable and more accessible.  
Account Management & Licensing
Boomi now empowers our clients to generate a comprehensive licensing report to understand which connectors they are leveraging across their account.  When selecting a connector class, our customer will be given the option to generate the report below. Or they can leverage the report object capabilities via the Boomi API.  This new report allows our customers to quickly understand the various connectors licensed, how many connectors are deployed and available, connector type, Internal ID for the connector, Atom and connector name, the process where the connector is being used, and if the connector has been inherited.  This allows our customers to quickly understand their connector environment and how and where the connectors are being used, ensuring our customers always have complete visibility and an audit trail for all of their Boomi connectors. 
Finally, Boomi has eliminated the 'purchase' column from the licensing section to reduce confusion surrounding connections provisioned and contractual terms.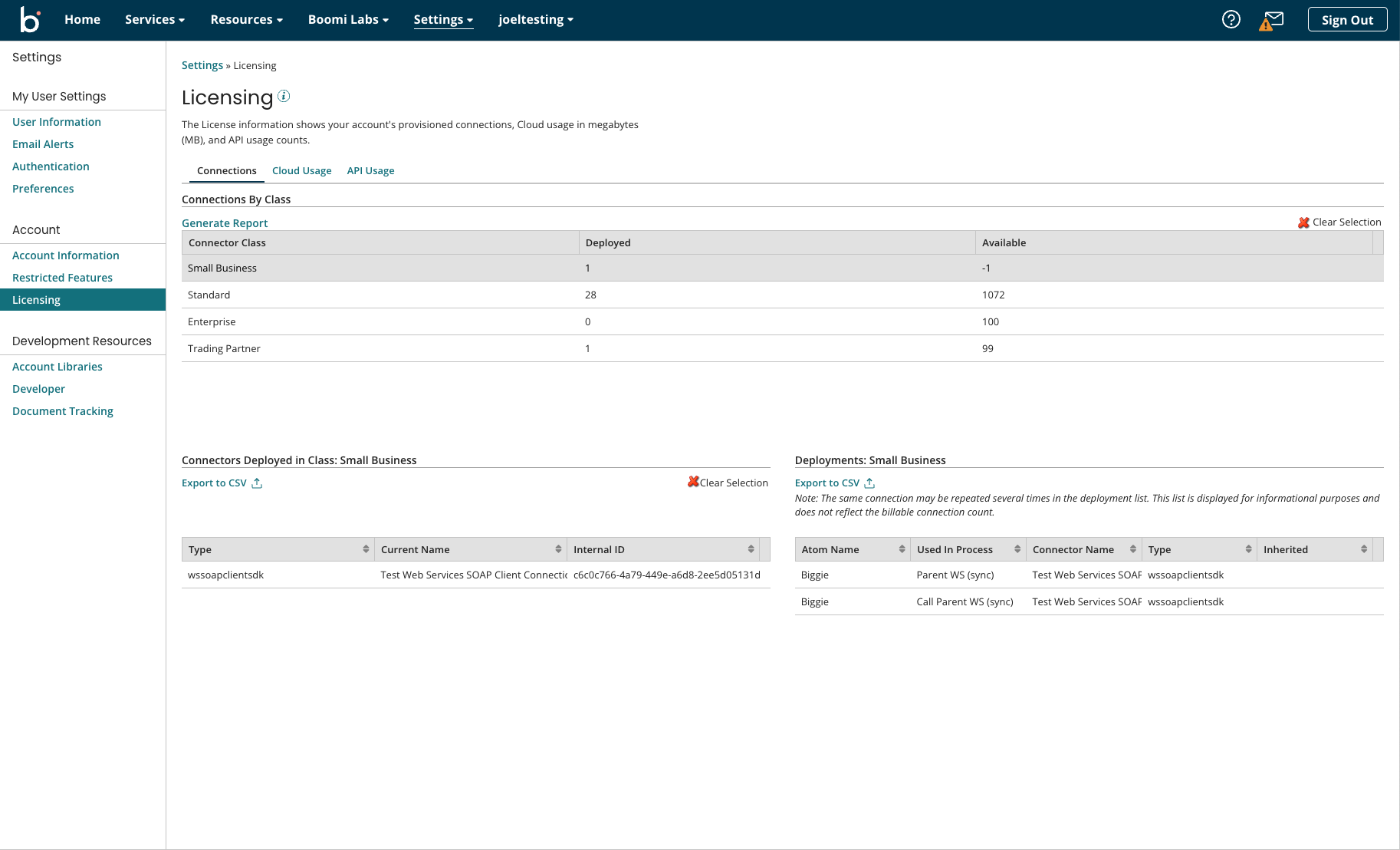 B2B/EDI
HL7
We have added support for sender and receiver network address identifiers. These will be available for use as document properties in your integrations, and also tracked fields in the HL7 connector.
API
We made several updates to our Trading Partner APIs, so that AS2, HTTP, and OFTP2 communication methods now contain field validation when creating or updating these communication methods.
Connectivity
Enhanced Object Import Experience
Boomi has enhanced the user experience for the import functionality of object definitions for application connectors.  We've made the interface more intuitive and user-friendly for integration builders when creating operations to help expedite these types of procedures.  The import wizard automatically pops up when creating a connector operation instead of requiring users to open the import wizard manually. In addition, users can launch straight into importing the profile objects and complete creating their operation definition in just a few clicks. This new capability expedites importing new objects inside the Boomi environment and eliminates some of the manual processes associated with importing objects.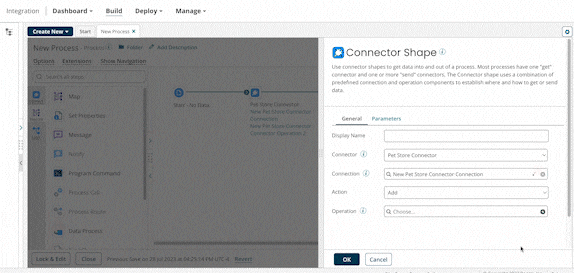 Note that the HTTP patch connector is hidden, but you can utilize the Patch operation in the recently released REST connector as an alternative.
Master Data Hub
Reference Data Management
Boomi is excited to roll out more enhancements to Master Data Hub!  We strive to reduce manual data stewardship tasks plaguing many organizations today.  We accelerate the data-driven journey by focusing on streamlining an organization's data governance and harmonization tasks. We accomplish this by auto-resolving and synchronizing quarantined records when referencing other records. Primary domains requiring referential integrity, Boomi quarantine updates with an unresolved reference with a cause of Unknown Reference Value. For example, suppose a Data Steward restores an end-dated golden record in a referenced domain. In that case, Master Data Hub will reprocess relevant quarantined entries automatically and synchronize these updates to the appropriate systems.  This new capability reduces time-consuming manual processes at the data stewardship level and leverages the power of data synchronization to reflect the adjusted data values to all contributing and source systems, reducing data fragmentation and disparate data values and accelerating our customer's journey to be more data-driven.     
API Management
We're excited to introduce some significant updates in our August release, specifically designed to optimize your API Management experience. Our focus has always been on providing efficient, secure, and robust services that align with our customers evolving needs.
Early Access to API Dashboard Update: Error and Call Logs for Optimized Monitoring
One of the most anticipated features for the API Management dashboard is now available as Early Access. This enhanced dashboard now includes error and call logs that places critical information at your fingertips.

Boomi has added new tables to provide comprehensive details about successful API calls and error logs. This feature will amplify visibility into API operations and equip you with the data necessary to make prompt and informed decisions. For example, imagine a scenario where you're experiencing an unexpected surge in API error rates. Identifying and addressing these issues could be tedious and time-consuming without a dedicated error log surfaced on the dashboard. Our new API dashboard, via the early access program, can pinpoint and troubleshoot anomalies swiftly and efficiently, ensuring your API services remain uninterrupted and run smoothly. 
Advanced Audit Logging: Boosting Transparency and Accountability
It is imperative to have transparency and accountability when managing your API processes.  Boomi has improved visibility with additional audit logging by role, user, and group authentication source updates.  This new feature adds another layer of security to API Management by offering a comprehensive change management process that simplifies tracking changes. For example, consider a situation where a change has been made in your authentication source, leading to unexpected behavior. With our enhanced audit logs, you can trace every change and understand who made it and when, giving you more control and insights into your system.  This enhancement facilitates a more profound understanding of the system's status and operations at any given time.
Flow
Boomi is thrilled to share some exciting updates for Flow in this release!  This release is packed with powerful features to elevate your workflow experience. Here are some highlights:
Signature Pad Component: Adding a Signature Pad component to display a drawing area where you can input drawings, signatures, and other illustrations is now easier with this new release of Flow. The drag-and-drop no-code Signature Pad Component lets you capture signatures, drawings, or other illustrations effortlessly inside the process flow, which significantly simplifies and expands the usability of Flow.
Secure your data with Secret Values: Safeguard sensitive information by marking a new or existing Value as Secret.  You can hide this information keeping sensitive information invisible in both the design time and runtime, ensuring sensitive data is secure and protected throughout your Boomi Flow processes.
Flow Translation: Run your flows in different languages and easily import and export translated Flows to suit your organization's diverse needs and support your company's global reach. To learn more about translating and exporting a Flow, see here. To import a translated Flow seamlessly into your tenant, reference the instructions here.
Other Enhancements:  Boomi has made various improvements to our error messaging, enhanced the Payment Card Component to adapt seamlessly to the detected provider, and improved the Start Map Element, simplifying the Flow creation process.
As always, we value your feedback to improve your experience with Flow!
Roadmap webinars
Want to know what Boomi is shipping next? You have to sign up for the product roadmap webinars!
This is your chance to get answers from Ed Macosky, Chief Product & Technology Officer and the product management team, as they talk about recent enhancements and the future of the product.
Register here please: https://boomi.com/event/online/product-roadmap-webinar-series/
Previous roadmap: Article: Everything You Want to Know About the Boomi Product Roadmap – Q3, 2023 – Boomi Community
Thank you for choosing Boomi!
We are here to exceed your expectations, working together with you.
You may also like these resources:
Let's connect online!
LinkedIn – https://www.linkedin.com/company/boomi-inc/
Twitter – https://twitter.com/boomi
Facebook – https://www.facebook.com/Boomi.Official 
This article contains forward-looking statements based on current expectations, forecasts and assumptions that involve risks and uncertainties. As such, the dates and deliverables represented cannot be guaranteed and should not be viewed as commitments.