"ERP modernization" is one of those buzzy business phrases we often hear. Like its close cousin "digital transformation," it comes perilously close to jargon because it can mean so many different things.
And yet there's a good reason why modernizing ERP systems is such a hot topic of discussion. They are the foundation of every organization, managing day-to-day operations such as finance, project management, and supply chain operations. An ERP touches virtually every corner of a company.
But business moves fast. Traditional ERPs are struggling to keep up. The day of the monolithic ERP is long gone. Companies are adopting "composable" ERP models where they add and subtract "best-of-breed" applications to give them greater agility, speed, and remote access. Meanwhile, the most prominent ERP players are moving away from stuck-in-cement, on-premises suites to more flexible, cloud-based versions. (For instance, the clock is ticking loudly for customers of market-leading SAP to migrate into its latest S/4HANA edition.)
Innovation has benefits. It also presents new challenges. Connecting ERPs to third-party applications and multicloud/hybrid landscapes for real-time data integration is time-consuming, expensive, and complicated. Well, if you don't have the right platform to help.
Yana Steinbruck, an ERP specialist for the Boomi Global Technology Office, explained why this journey doesn't have to be painful at our recent "Art of the Possible: ERP Modernization" webinar. Boomi's integration and automation platform removes friction during the transition and enables businesses to get more from their ERP investments.
"Boomi never tells you how to run your business," Steinbruck said. "Our platform gives you the flexibility to define your business incentives. We connect your ERP and every best-of-breed application so that you have visibility and access to all of your business processes."
The Boomi AtomSphere Platform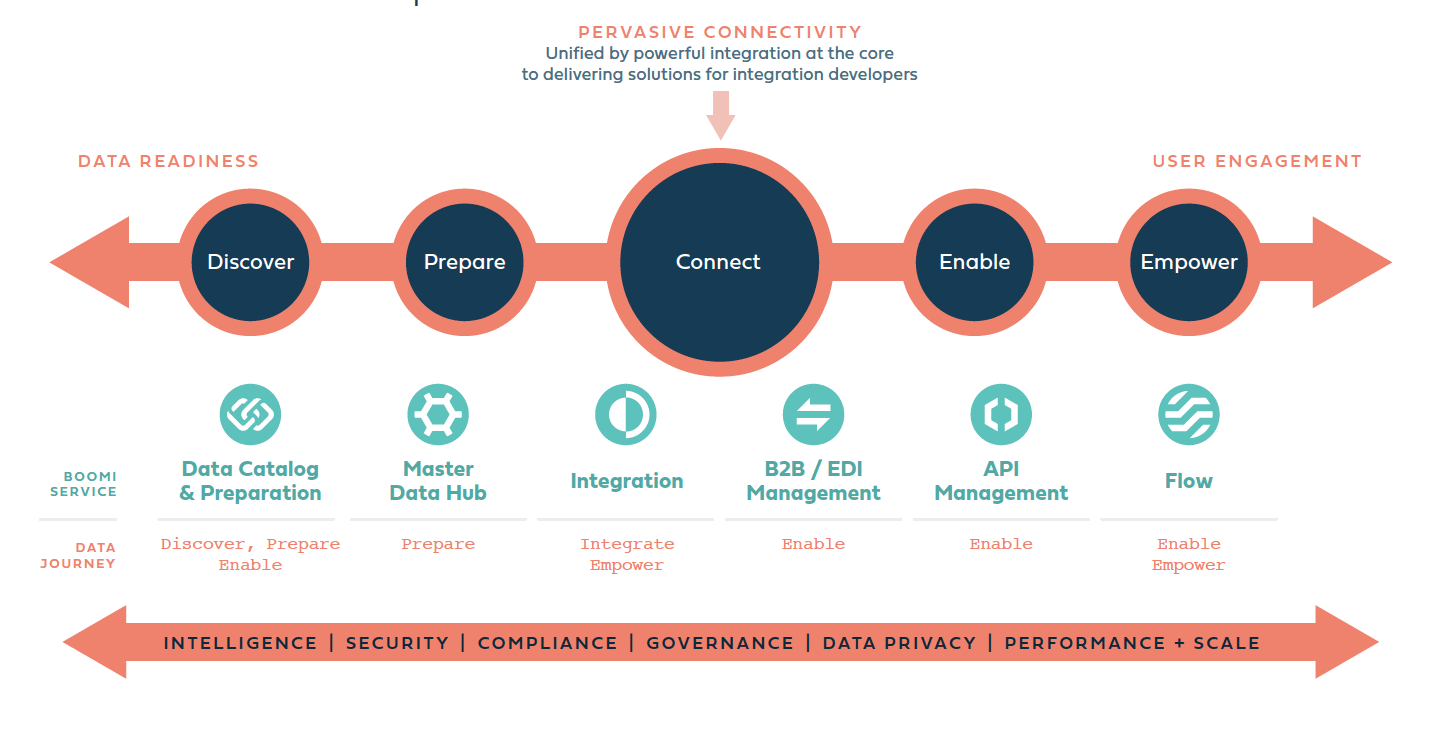 SAP customers, in particular, are looking for more functionality as they migrate away from their legacy instances. According to Steinbruck, 67% want improved reporting and visibility, 65% expect greater operational efficiencies, and 62% focus on increased competitiveness.
"Everyone knows and loves Boomi for our ability to connect applications and systems," Steinbruck added. "Integration is important. But it's not all that Boomi does. The platform helps you configure, control, and manage your data at every stage of your initiatives."
There are five common areas where Boomi assists SAP customers with their modernization initiatives as they essentially stand up brand new ERP systems with their S/4HANA migrations. In the webinar, Steinbruck explained the benefits companies expect, and the challenges businesses must overcome to achieve them.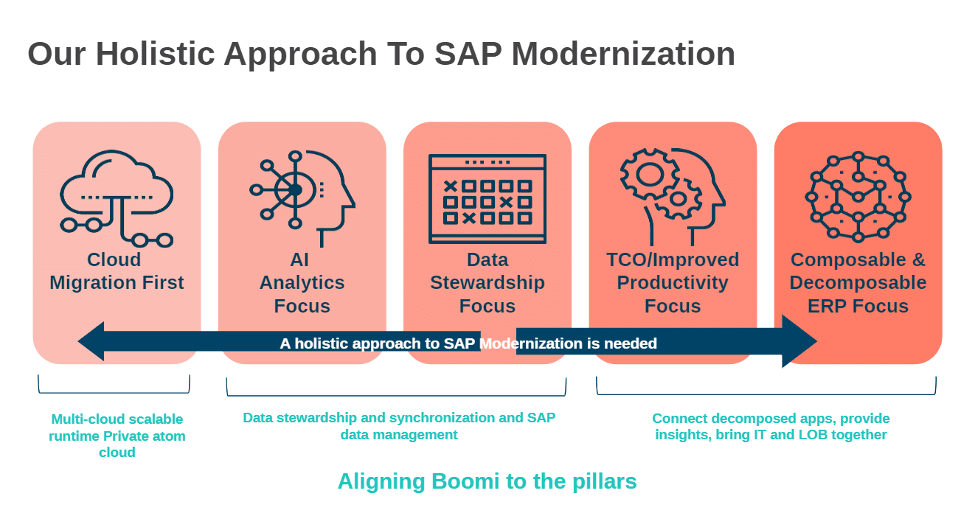 Cloud Migration: Cloud-first strategies are no longer the future. They're here today. But they require synchronizing data from cloud environments, on premises, IoT devices, etc., to ensure complete visibility into business processes.
Analytics: Improving competitiveness comes down to better use of data. That means not settling for days-old data. (Or even hours-old data.) For the best insights, businesses need real-time analytics pulled from disparate sources.
Data Stewardship: Trusted data eliminates the "garbage in, garbage out" problem plaguing business analysis. But that means discovering, cleansing, and consolidating data into a single source of truth – and then making it easily understandable.
Total Cost of Ownership: The modernization goals of cutting costs, improving operational efficiency, and reducing risk are unattainable without transparency and accuracy of all data.
Composable ERP: The appeal of "designed-for-our-business" modular architecture is appealing. But with more applications comes more complexity and a need for greater connectivity.
"The good news is, Boomi has tools to help you with each and every one of those challenges," Steinbruck said.
This short video provides a glimpse into how the art of the possible can become a reality when Boomi is helping guide your ERP modernization journey.
Learn more by watching our free, on-demand webinar "Art of the Possible: ERP Modernization." You can also read about how Boomi helps MOD Pizza, WWZ, and Britvic see more benefits from SAP.