How is Dell Boomi Different?
The combination of Dell Boomi's iPaaS architecture, the maturity of the platform and the large number of users and integrations on our platform enable us to aggregate usage data anonymously across our customer base. This data provides unique ways for our customers to benefit from that aggregated data, to be more efficient, more effective and more productive, resulting in faster time to value. Additional capabilities are added as we bring new benefits to customers as a result of our iPaaS technology.
The Boomi Difference: Boomi Visual Interface
Boomi simplifies the creation of application, data, and B2B integration processes. After identifying the common steps needed to automate complex integrations, Boomi developed a series of common integration components that are available to Boomi users. When developing an integration process, connecting these components creates an end-to-end integration workflow.
Once you log into your account on the Boomi AtomSphere web site, you can design integration processes using Boomi's patented visual designer, which includes access to a library of prebuilt connectors. Then, using familiar point-and-click, drag-and-drop tools, you can build integrations with exceptional speed—from simple to sophisticated—with no coding.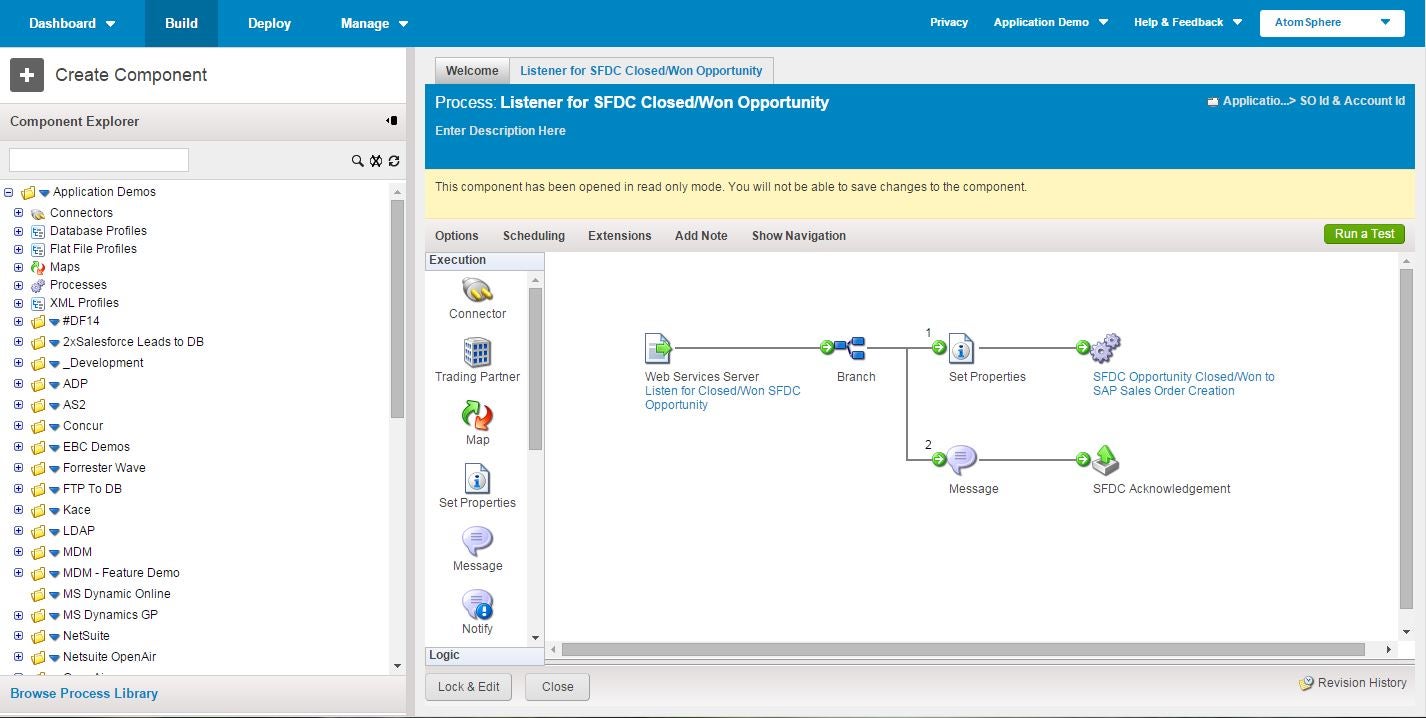 The Boomi Difference: Boomi Atom
After you've built your integration processes, they're deployed via a lightweight, dynamic run-time engine called an "Atom." The Boomi Atom transforms the once rigid, complex and costly approach to application integration into a fast, easy and distributed integration of cloud-based and on-premises applications.
How It Works
The patented Boomi Atom initiates all connectivity to the platform. Similar to other asynchronous architectures, Atom-to-platform communication is outbound only.
The Atom executes integration processes completely decoupled from any platform components. While maintaining ongoing communication with the platform, the Atom does not send your data to the platform. Instead, it communicates execution activity to the platform for centralized monitoring. This activity includes the executed processes, the result, and the number of records processed. The Atom also checks for updates to integration processes and can update itself as needed, allowing it to run in a fully "lights out" environment.
Boomi Atoms are self-contained and autonomous. They run on virtually any server—deployed "in the cloud" for SaaS-to-SaaS integration or behind your firewall for SaaS-to-on-premises and on-premises-to-on-premises integrations.
The Boomi Difference: Boomi Centralized Management
Regardless of where Boomi Atoms are deployed or how many processes are deployed, the Atom's unique architecture enables the centralized management of all integrations from the Boomi AtomSphere platform. The Manage functionality of the Boomi platform enables users to monitor the health and activity of all Atoms, review detailed logs of what processes ran and when, how long they took to run, the result, and how many objects were processed. Process alerts can inform you when the status of your integration processes changes.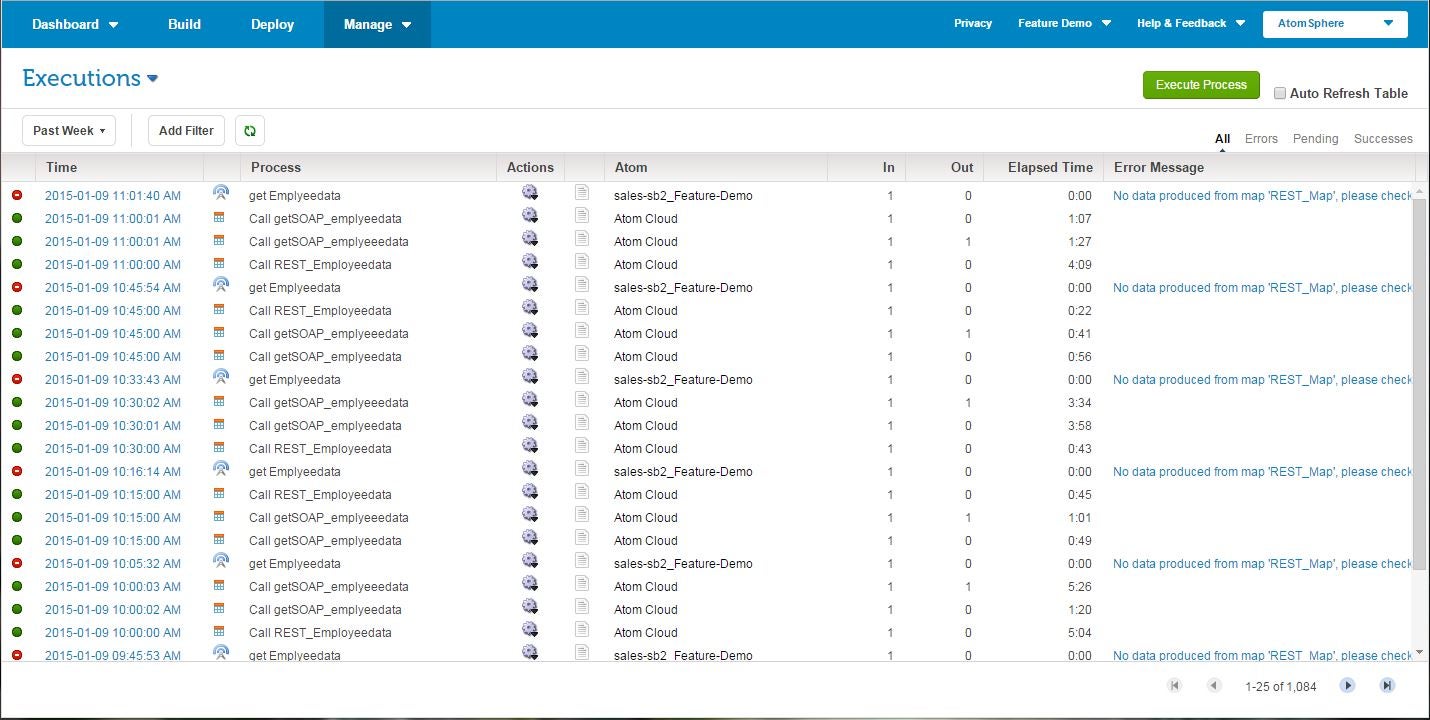 The Boomi Difference: Boomi Suggest
Boomi Suggest, the industry's first crowd-sourced suggestion wizard for data mapping, enables customers to tap into the knowledge of the Dell Boomi community for data mapping best practices. By anonymously indexing the millions of data maps and tens of thousands of functions created so far on the Dell Boomi AtomSphere platform, Boomi Suggest leverages previously built maps to recommend and automatically generate maps for new integrations. On average, users accept 90 percent of these suggestions, speeding the creation of data maps and accelerating time to value.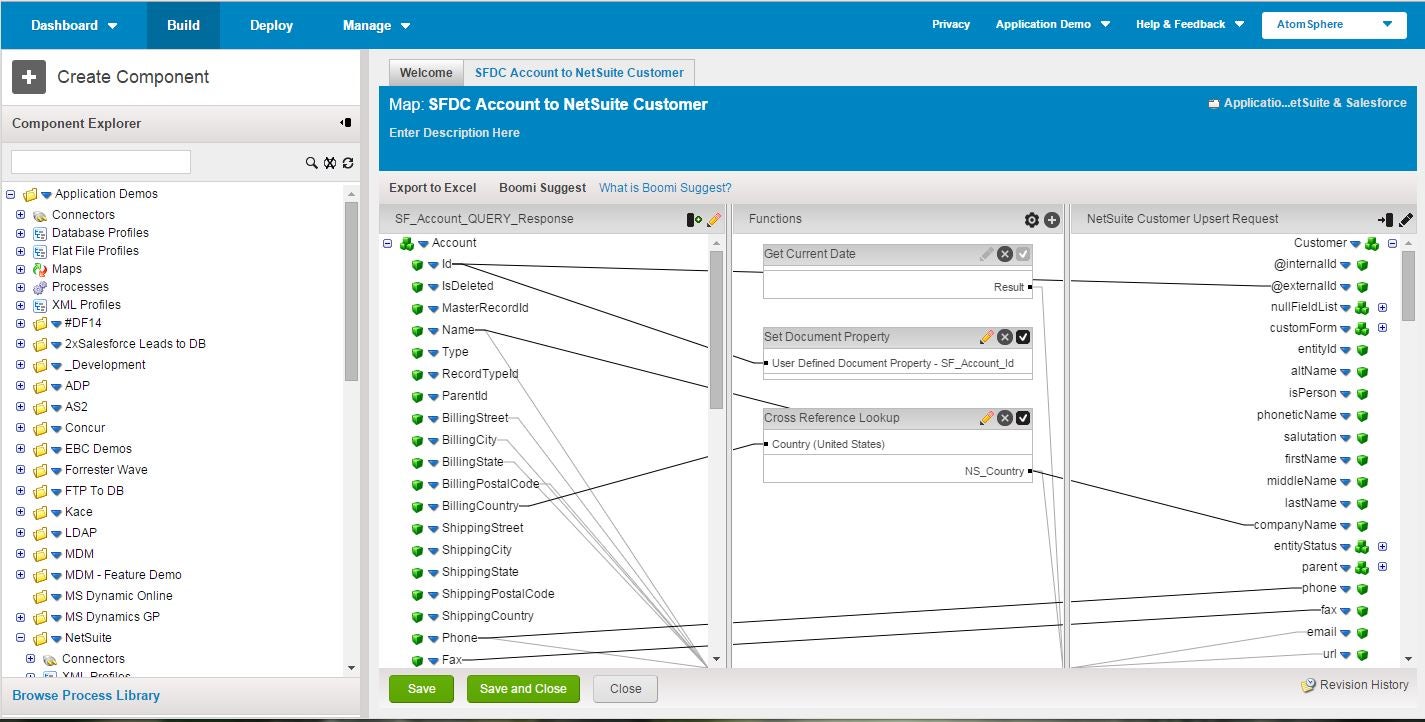 The Boomi Difference: Boomi Resolve
Based on crowd-sourced contributions to the Boomi knowledge base from the Boomi support team and user community, Boomi Resolve automatically suggests resolutions for common error messages. Boomi Resolve becomes more intelligent and helpful as common issues are identified and recommended solutions are provided.
Easily accessible through the Boomi AtomSphere interface, Boomi Resolve automatically lists possible solutions in order of relevancy and includes links to full articles for further explanation and suggested resolution.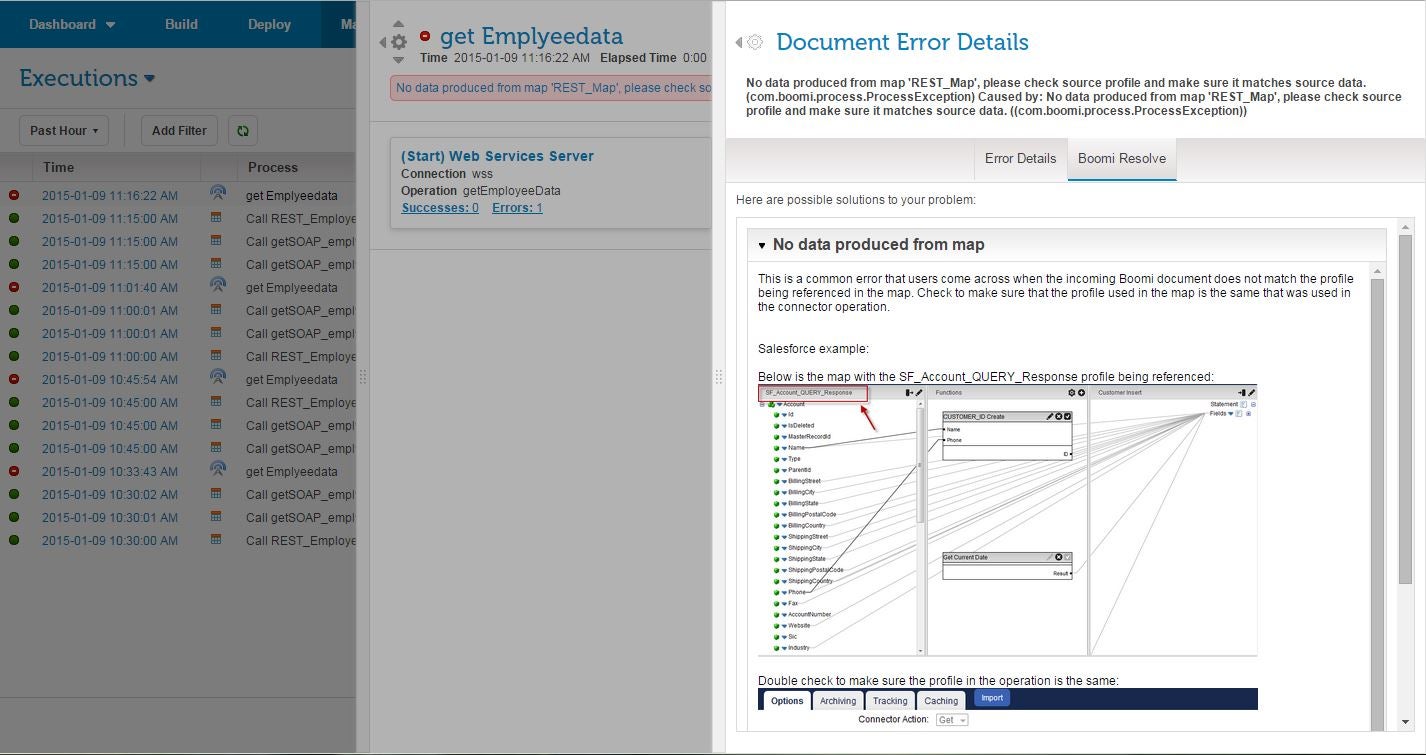 The Boomi Difference: Boomi Assure
Customers use Boomi Assure to augment internal test capabilities. Boomi Assure delivers crowd-sourced regression testing to Boomi customers. In a single click from the Boomi console, you can submit your integration processes and test data to AtomSphere. That test data will be run against every future AtomSphere release. We won't release new versions of the AtomSphere platform until all regression tests are completed and passed. With Boomi Assure, you can be confident that changes to the platform will not break your integration processes.
The Boomi Difference: Predictive Assistance
Dell Boomi's patented Predictive Assistance covers all customers at no charge. With Predictive Assistance, our support system automatically analyzes customer usage metrics, enabling the Customer Success Team to identify potential issues, and suggest ways in which customers can increase the success and ROI from their Boomi implementations. We invite you to learn more about our service and support offerings.