October 2nd, 2018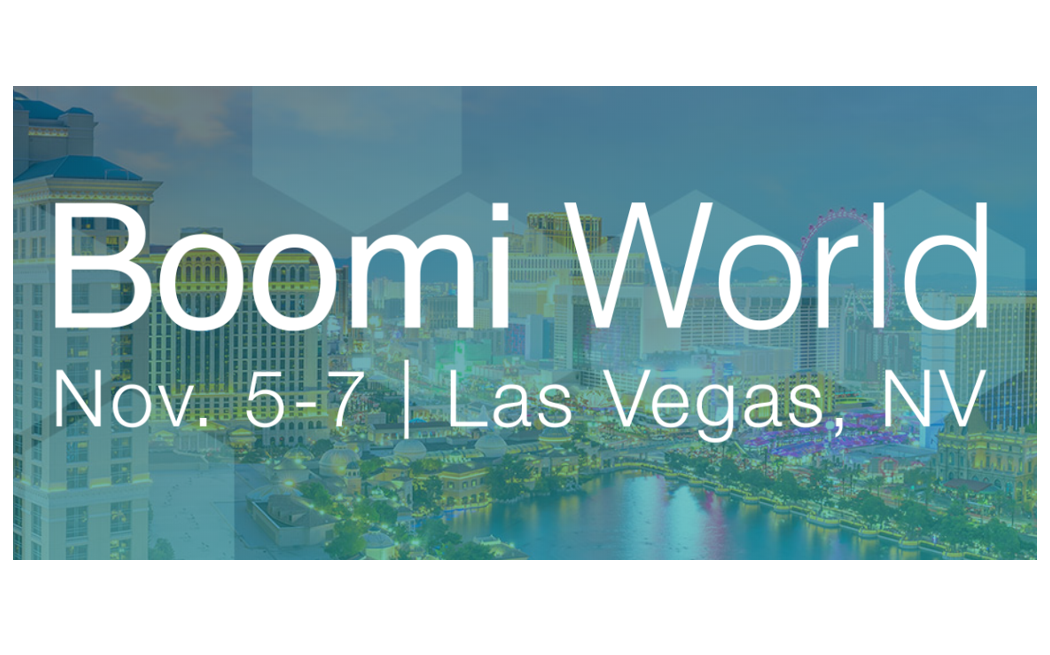 You thought Dreamforce was fun? Here comes Boomi World!
If you are an integration architect, an IT manager, or an executive hoping to master your hybrid infrastructure and transform your digital enterprise, then Boomi World is definitely the place you should be. Join us at Boomi World in Las Vegas, November 5-7.
But if you need a little more convincing, here are 10 reasons you will be glad you went to Boomi World.
1. Be the First in the Know: Dell Boomi pioneered the iPaaS integration cloud market and is continually extending the capabilities of its platform. Hear first-hand from Boomi's top product and business executives about our vision for the Boomi Integration Cloud.
2. The Big Stage: Get a front row seat to hear directly from Boomi's top executives, customers, partners and industry experts. Learn first-hand about the role of the integration cloud in today's hybrid IT environments and Boomi's vision for leading the industry in the integration revolution.
3. Network With Your Peers: They will be everywhere across the conference. Meet them at our strategic and technical breakout sessions, participate in 1:1 workshops, catch up at the Connections Expo and mingle at a host of networking events.
4. Training and Certification Pre-conference training is where you can get your tech on. The community of Boomi-certified integration professionals is rapidly growing on its way to 50,000 members. Check out the Boomi Community to learn more.
5. Learn, Learn Learn: Boomi World offers 30+ breakout sessions, covering the spectrum of integration best-practices and customer stories. Learn from the industry's leading experts and gain insights into how Boomi integration can help build modern digital infrastructures.
6. See for Yourself: Get your hands on some integration at our demo grounds, showcasing the latest and greatest from the Boomi platform and our partners. Note to self: Don't miss out on the sneak peek to Boomi's platform road map, with insights into how Boomi is using and supporting new emerging technologies, such as AI, bots, IoT and blockchain.
7. Get the Big Picture: We're all about getting stuff done, but sometimes it helps to see the big picture to know what to do. Hear about future trends for integration, the cloud and hybrid IT from business leaders and top industry analysts.
8. Get Inspired: This year we're putting even more focus on our favorite people, our customers. The Boomi Customer Excellence Awards program recognizes Boomi customers who achieved remarkable IT and business transformations with our integration platform.
9. Get Partnery: Our Partner Summit gives us a chance to spend quality time with some super important people, our partners. Like us, they work tirelessly to help our mutual customers tame their hybrid IT systems and build digital businesses. We'll have the chance to talk, share insights, get inspired and find even better ways to help our mutual customers thrive as digital enterprises.
10. All of the Above and Have Some Fun: Hey, we've got a full program. Your days will go fast with sessions and conversations with colleagues, Boomi executives, industry experts and our partners. And, well, it's Vegas, baby. So you know what to do. Have some fun.
See you at Boomi World!
Boomi World 2018 features a jam-packed agenda with dozens of breakout sessions, inspiring keynotes, customer success presentations, 1:1 workshops, a solutions expo, networking events and after-hours entertainment. Learn more at Boomi World Vegas.

"It was great to see how other companies are using Boomi and solving their integration challenges. It's clear there's a lot of passion behind what people are trying to do with Boomi iPaaS." — Developer, Healthcare Manufacturing Company