October 17th, 2018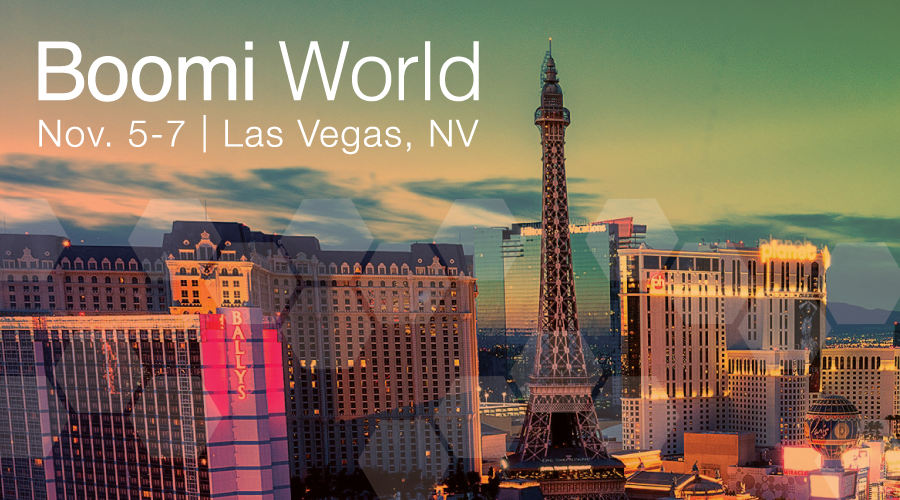 With Boomi World fast approaching, we thought it would be a good time to mention some of the reasons why there is even a Boomi World — or, really, why Dell Boomi exists at all.
It all comes back to our commitment to our customers to help them be successful. This is why Boomi began in the first place and why we tirelessly work to expand and enhance the capabilities of our industry-leading integration platform.
These days, with the proliferation of SaaS applications and the rapidly increasing complexity of cloud and hybrid IT environments, integration is more important than ever as a foundation for driving operational improvements and pioneering innovations.
And Boomi is providing just what our customers need most: a highly flexible and rapid development platform for quickly and easily connecting and managing integrations for any application or data source in the cloud, on-premise or at the network edge.
Our 97 percent customer retention rate tells us we are on the right path.
Here, in no particular order, are 10 reasons why our customers love working with Boomi.
1. Ability to Connect Everything and Run Anywhere
Boomi's unified integration platform makes it easy for you to connect applications, databases, devices and more regardless of whether they are on-premise, in the cloud, or a combination of both. And with Boomi, you can support customers, partners and employees how they want, wherever they might be.
2. End-to-End Workflow Management
Boomi offers superior development and management efficiencies (what we call "economies of skill"). The Boomi integration platform as a service (iPaaS) goes beyond core integration, helping you ensure data quality, design and manage APIs, simplify B2B/EDI management and build customer journeys with automated workflows.
Want to know more about how Boomi can help your organization survive and thrive in the era of digital transformation? Join us at Boomi World 2018!
3. Fast and Easy Low-Code Integration
Boomi offers the industry's most extensive collection of tools to speed integration projects and streamline implementations, including process libraries, prebuilt connectors and crowd-sourced guidance for data mapping. Our drag-and-drop interface streamlines how integrations are built — in many cases completely eliminating the need for coding — allowing you to rapidly deploy in weeks, days or even hours.
4. Built From the Beginning for the Cloud
Boomi's cloud-native infrastructure allows you to take full advantage of all the benefits the cloud has to offer. There's no on-premise hardware or complicated installations, so you can start building integrations immediately. Automatic upgrades take the burden off of IT and ensure there are no issues with versioning.
Boomi Customer Excellence Awards honor Boomi customers who have transformed their organizations, customers or communities through deployment of Boomi's products and solutions. Attend Boomi World to meet these integration pioneers.
5. Supportive Partner Ecosystem
Boomi teams with leading global and regional integration partners, including the biggest names in the business such as Accenture, Deloitte, KPMG and Tata Consultancy Services. Whether you work directly with us or through one of our partners, we are committed to supporting your unique project needs.
6. Educational Resources
The Dell Boomi Community connects you with everything you need to be successful with our products. Find answers in our forums, resources in our knowledge center, and make your voice heard by sharing product enhancement ideas.
Learn directly from the industry's leading integration experts in Boomi World's 30+ breakout sessions and pre-conference training workshops.
7. Consistent Innovation
Boomi released the industry's first cloud-native integration platform back in 2008, and we haven't looked back since. Our history of innovation has helped us become the integration market leader, with more than 23 patents to our name. And with the backing of Dell Technologies, you can be assured Boomi's innovation will continue to lead the industry well into the future.
8. Market Leadership
Since pioneering the integration cloud category, Boomi has been consistently recognized as a leader in the market by top industry research firms, including Gartner and Forrester.
9. We Make Our Customers Heroes
At Boomi, we want our customers to be heroes within their organizations. We do our best to empower you to get work done better, faster and more efficiently, and it's important to us to recognize the work you put into your integration projects. Our Customer Success portal showcases some of the many innovative ways that our customers like you are using Boomi to transform their infrastructure.
"In the past, IT has been a bottleneck during integration projects. Now we can quickly accommodate changing requirements. It feels good to say, 'we are all done and waiting on you guys.' I'm a hero. Boomi is one of the best products I've used in my 24 years of working in IT."

— Vince Moore, IT Manager, Enterprise Community Partners.
10. Honesty and Transparency
Dell has been named one of the World's Most Ethical Companies for the past five years. In 2018 it was one of only three honorees in the technology industry, underscoring the company's commitment to leading with integrity and prioritizing ethical business practices.
With Boomi, there aren't any hidden agendas or hidden costs. Our scalable pricing models support pay-as-you-go subscriptions, so you pay for just what you need when you need it.
Everything we do at Boomi is based on our commitment to helping our customers build best-of-breed integration practices. Your success is our success.
Join us at Boomi World 2018 to learn what makes Boomi so special. Learn first-hand from some of our most successful customers about how they've used the Boomi integration platform to better their businesses. Don't miss it — Register Today!