Blockchain, a technology for maintaining a distributed system of records protected by cryptography, shows great potential for securely automating business transactions and processes.
Peers in a blockchain network collaborate to validate and record each transaction in a distributed electronic ledger. Data in the ledger can be accessed and used by other authorized applications and services, as needed. Because integration and data access are essential to any blockchain implementation, Boomi has important benefits to offer any enterprise working with blockchain.
In this blog post, I'll offer a quick introduction to blockchain and discuss some of the ways that Boomi integration can help organizations innovate with blockchain successfully.
Blockchain in a Nutshell
Think of blockchain as a highly distributed and secure alternative to traditional record-keeping. Rather than requiring each party in a network to maintain its own records or to transmit data to a central repository for reconciliation and preservation, blockchain transactions execute across a secure peer network that is fully transparent to all stakeholders.
Each block in a blockchain is a record comprising three elements: a cryptographic hash of the previous record, a timestamp and transaction data. Once entered in the blockchain's distributed ledger, no record can be altered without the consensus of all the nodes in the network. The result is distributed record-keeping performed with a high degree of trust and security.
The decentralized nature of blockchain offers many benefits for business. For one thing, it helps all peers in a network the status of blockchain records simultaneously, whether that status is the result of a business transaction or the latest lab results appended to a healthcare record. In areas such as ecommerce, fast, accurate and synchronized record-keeping promises to streamline business processes while reducing errors.
Because blockchain involves multiple technologies, services and back-end applications, it requires integration and data orchestration. Enterprises are beginning to explore not only how to use blockchain but also how to integrate blockchain operations intro the enterprise architectures they already have in place.
From Boomi's point of view, blockchain becomes simply another endpoint for integration — an exciting new business capability that enterprises can fold into their existing operations and infrastructure using the Boomi platform.
Blockchain and Integration
To understand the integration options with blockchain, it's important to know that blockchain can be categorized as public or permissioned. Well-known cryptocurrencies such as Bitcoin, Ethereum and Litecoin are based on public blockchain, which prizes the anonymity of its peers over the speed of its transactions.
In contrast, permissioned blockchain involves multiple identified and trusted participants in agreed-to roles across a closed and monitored system (such as a trading network), with a greater emphasis on transaction processing speed.
Enterprises can use permissioned blockchain to create:
A shared ledger: A distributed, append-only system of record, shared across a business network.
A smart contract: A digital contract in which business terms are embedded in a transactional database and executed with transactions.
Boomi can help enterprises integrate and manage data for both these types of blockchains.
Boomi and Shared Ledgers
A shared ledger functioning as a system of record will interact with other applications on an ongoing and often real-time basis. From an integration perspective, consolidation of data from other applications that allow the shared ledger to behave as a system of record is another important consideration.
The Boomi integration platform already enables interaction with any system of record, regardless of type. Our Boomi Master Data Hub plays a vital role in consolidating and enriching data before it's created or inserted into a shared ledger.
Once a shared ledger is created, blockchain-enabled applications can be created using Boomi Flow, our workflow automation development platform. Boomi's API management capabilities make it possible to unlock the shared ledger data to serve data to these applications.
In sum, Boomi provides an entire platform that enables companies to have a decentralized yet connected business that utilizes blockchain as a shared ledger.
Boomi and Smart Contracts
Another area of blockchain that has seen a lot of traction is smart contracts, which can securely and transparently execute transactions within a decentralized blockchain.
As enterprises start adopting new and multiple blockchain technologies, Boomi will play a critical role in execution of smart contracts across multiple blockchains
Let's use supply chains as an example. Today, supply chain management relies on an inordinate amount of manual work, using spreadsheets or even paper to manage hundreds of checklists and approvals. These processes are time-consuming and error-prone, and increase both personnel costs and the risk of fraud, data loss and breaches of privacy.
Blockchain smart contracts can completely automate this process by providing a secure, accessible digital version to all parties. In a simple use case, when a product is sold, a smart contract can automatically trigger the entire supply chain to start the production of the new product and backfill the inventory.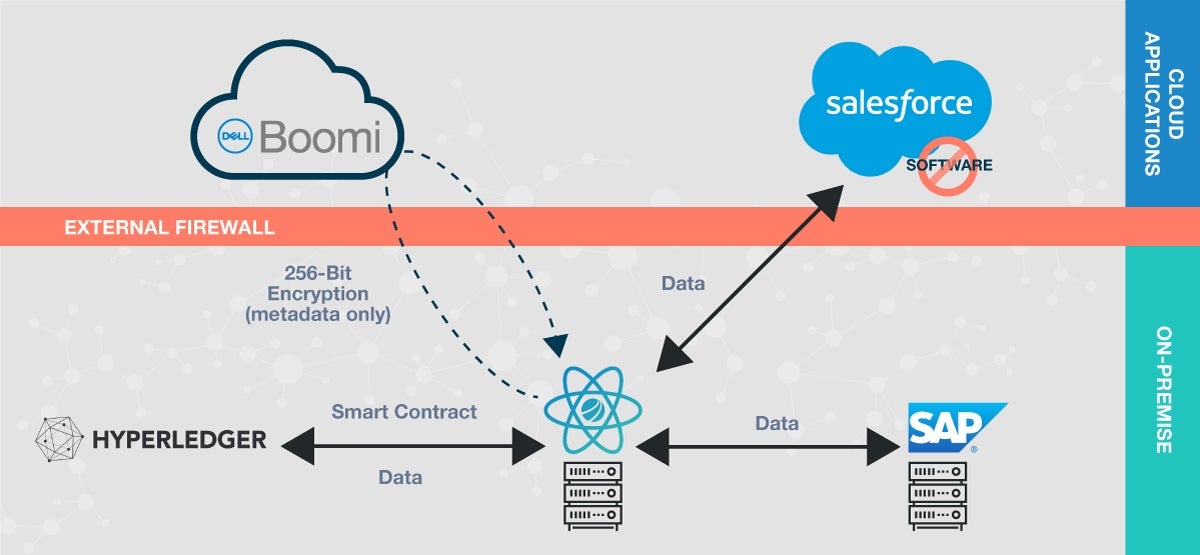 Many blockchain technologies have the ability to execute smart contracts. One such example is Hyperledger Fabric, developed through the Hyperledger open source community to advance cross-industry blockchain technologies. Hyperledger Fabric enables creation of smart contracts via Go and JavaScript languages, exposing the contracts and other assets via a REST API.
Boomi has developed a Hyperledger Fabric connector that manages user registrations and queries the blockchain. The connector leverages the REST Client API to enroll the user, then deploy, invoke and query the programmatic chaincode (as it's called in the Hyperledger world) underlying the smart contract.
The Fabric connector, along with ability to deploy the Boomi Atom runtime engine to any cloud or on-premise location, puts Boomi at the center of action for all things related to execution and automation of these smart contracts.
IoT, Blockchain and Boomi
One last area worth mentioning is Boomi's growth in the Internet of Things (IoT) space. Boomi has quickly established itself as a leader in IoT, with a growing number of IoT-related deployments using Boomi to collect and share data from intelligent mattresses equipped with biometric sensors.
Synergies between IoT and blockchain technologies open a range of exciting possibilities. Imagine a driverless car that can self-diagnose safety, performance, maintenance and other issues through its IoT sensors. When an issue is found, the car executes a smart contract to order any parts needed and books an appointment with a repair shop.
Here, too, Boomi can help. Boomi Atoms can run on individual IoT devices or on edge gateways, providing integration, data transformation or data quality management services to support blockchain transactions. And Boomi Flow could incorporate transactions and requests from IoT devices.
Looking Ahead: Blockchain and Enterprise Integration
Blockchain technology is still in its infancy. Many use cases are being developed as pilot projects or production deployments of limited scope. But the success of cryptocurrencies such as Bitcoin clearly shows the potential of this exciting new technology. Across industries, momentum is building.
Given the success of these currencies and the investment that companies are making in projects like Hyperledger, it's time to start thinking and exploring what blockchain can mean for your business, remembering that Boomi iPaaS makes it easy for you to integrate and manage all the key elements in your blockchain environment.
Want to know more about how the integration cloud can help you take advantage of blockchain and other emerging technologies? Please contact a Boomi integration expert today.