By Mark Emmons
Our "5 Minutes With" profile series highlights business thought leaders, the trends they see in the market, the exciting work their organizations are doing — and their hot takes on pizza integrations.
As a Director of Enterprise Architecture, Robert Thomas makes it a point to spend time talking to colleagues within the business about how they do their jobs. He often hears similar themes as they describe their day-to-day work lives.
"I'm constantly told that they're doing data entry across five different systems," Thomas said. "Well, there's a solution to that. We can integrate those systems and build logic into those connections to automate their workloads. That's my thing – automation."
Thomas specializes in finding ways to make businesses more efficient through more innovative technology. One tool he relies on is Boomi to simplify digital architectures through integration and automation. He's used the platform at three companies, including in his current role at Arbonne, an international multi-level marketing company with products such as vegan skincare, cosmetics, and nutritional supplements. Thomas is such a believer that he leads Boomi's Southern California user group.
"Integration and automation aren't just important – they're extremely critical," he said. "Businesses of all sizes struggle with meaningless tasks, making it hard for them to compete. Automating workloads to free up employee time is vital because every second you're not focusing on revenue activities gives your competitors a chance to outdo you."
Thomas talked with us about the value of speed in business, what peers are talking about in his user group sessions, and the value of curiosity for technology leaders. Here are some lightly edited portions of our conversation.
Let's start with our favorite question. What's your favorite pizza combination?
Robert Thomas: I mostly grew up on Long Island, so I love New York-style pizza. But what I really love is how pizza can bring people together for great conversation. I mean, you can't do pizza without beer, right? So, you can watch a Yankees game or a New York Giants game with pizza. You can also have a user group meeting with pizza. It's just that universal kind of food that encourages people to connect and makes everyone happy.
Help us understand a bit more about Arbonne.
Robert Thomas: Arbonne is a health and beauty care company for women. We sell our products through stay-at-home moms. I believe we're in the top three in the U.S. market. When I got this job, I honestly didn't know much about this company. But my wife was like, 'I buy their stuff all the time!' You'd be shocked how so many people know about, and like, Arbonne.
What's an example of how Boomi helps you?
Robert Thomas: A recent example is a perfect use case for fast deployment. We're launching a new CRM called Verb. Our sales team has a typical leadership structure. But our sales forces consist of independent consultants who often are stay-at-home moms who sell our product. So you're building something for a group of people who do not have years of expertise being sales managers, sales executives, or know sales strategy. How do we make them really successful? One of the things we're doing is launching this VerbCRM app for them.
We had to build an integration – fast. We needed acceleration, security, compliance, and quality, or the adoption would be bad. So, we literally built the Boomi process and cranked that baby out in two weeks, which is unheard of, so it was ready for deployment.
Why do you think businesses today need automation?
Robert Thomas: Your competitors are now Millennials who have grown up in a world of automation and are aggressively using automated technology tools. They're being disruptive in the marketplace because they're getting more done, and they're more focused on what really matters.
It comes down to who has the most discipline. Suppose you're constantly emailing back and forth about something with 15 different people and exchanging files to wrangle together data and make sense of it. In that case, you're wasting time instead of focusing on your core business competencies. Something that took hours should have been completed in 30 minutes. People like me become super-critical for the lines of business. We help them tell a better story, back it up with data, and do it faster.
As you lead Boomi user group sessions, what are the challenges you hear about most frequently?
Robert Thomas: The biggest thing is speed. You often hear people talking about how they came to Boomi. You hear the same story in the user group from everybody. They say something like, 'My integrations were custom-built, and it would take us four months." Only, of course, no one ever hit four months because they had to write something like 400 lines of code. Then, everybody who has ever put code into a staging environment knows the first thing that happens when you write that much is everything fails. You're up all night wondering, "Oh, god, why is this not working?"
How does that story change with Boomi?
Robert Thomas: With a tool like Boomi, you're not writing that custom code. If you put it in a staging environment and something fails, you fix it in 30 minutes instead of two months. It's live by the end of the day. Everybody shares the same story about how some incredibly hard project was live in 30 days. And Boomi has error handling, which you never have time to build in custom integrations. So instead of everyone freaking out trying to debug problems, Boomi sends you a notification of why something failed, and you're down for maybe 10 minutes. Nobody even notices. Or maybe your boss might say, "Did that go down?" And you can smile and say, "I don't know what you're talking about."
How did you get to where you are now?
Robert Thomas: I graduated from high school in Orlando, in a predominantly African-American community where very few of us went on to do spectacular things. I was one of eight kids, and we grew up in poverty. I was the first one to go to college. I was not a good student, but I was in a mentor program in high school with a gentleman from Lockheed Martin, and it completely changed my life by planting the seed that I could go to college. I was at a community college in Florida when some friends and I jumped on a Greyhound and went to Stockton, Calif. After I graduated from community college there, I got into UOP (University of the Pacific). I just worked hard and landed at Accenture as a consultant in my first job out of college.
When and how did your interest in IT begin?
Robert Thomas: What I learned at Accenture was this mindset that if you're not moving forward, you're moving backward. It launched me on a passionate search for learning. I would find the top articles and books and spend my waking hours reading, going to conferences, and talking to authors – educating myself about business pain points and how the latest and greatest in technology could help. Maybe I'm a little intense. But I'm curious about solving problems. Very curious.
Up Close With Robert Thomas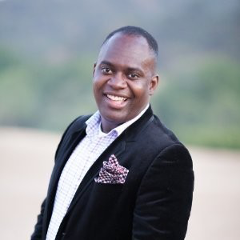 Role: Director of Enterprise Architecture at Arbonne
Home: Corona, Calif.
Family: Wife Wakema, sons Bobby (11) and Ethan (6), and daughter Fallon (8)
Education: Bachelor's degree in finance from the University of the Pacific's Eberhardt School of Business
Career: His 25 years in solutions architect positions includes nearly four years with Arbonne and previous experience at Slalom, Cylance, Adobe, WhiteHat Security, Symantec, and Brocade. He also founded his own consulting business, which his brother now manages.
Cool Thing About Robert: He's a watch enthusiast. "My nicest one is a TAG Heuer that my wife bought me," he shared. "But I keep that one at home. I like wearing my Apple Watch every day."
Robert is one of many satisfied Boomi customers. Learn why organizations around the world choose the Boomi platform.