By Mark Emmons
Our "5 Minutes With" profile series highlights business thought leaders, their projects, and trends they see in the marketplace. And their hot takes on pizza integrations, too.
Ask Ethan Pack about the best part of his role in assisting financial institutions to modernize their digital landscapes, and his answer doesn't mention "technology." Instead, he says, it's having a positive impact on lives.
"I like helping people become more secure so they can be their best selves, provide for their families, and move forward in life," Pack said.
During his 25-year technology career, Pack has shown businesses in the financial space how to transform their operations, including at TDECU and the Houston-based Stewart Title Company, and now with his consulting firm, The Pack Group Inc.
He was on stage with Boomi CEO Steve Lucas in February 2023, discussing the importance of integration and how modern technology architecture provides what he calls a "financial GPS" for consumers.
"Financial services firms have the reputation of telling people, 'I'm sorry, you should have turned left six minutes ago. My bad,'" Pack said. "That's because systems are slow, and data is disconnected. So, they don't understand customer's needs and can't be empathic, prescriptive advisors."
Another common financial services firm habit, Pack said, is telling people nothing before they reach a major financial intersection.
"That's where the connectedness of the technology landscape is important," he added. "It ensures your people provide better advice."
Pack talked to us about application integration, his advocacy for diversity in technology, and how a near-death experience forever changed his outlook on life. Here are lightly edited portions of our conversation.
First, a fun question. What's your favorite pizza integration?
Ethan Pack: Sign me up for some quality cheese, marinara or tomato-based sauce, and pepperoni. I am a big fan of crust diversity – pretzel crusts and all that kind of stuff. But what I like about your question is the analogy to enterprise integration. We all know the architecture of a pizza. The interchangeability and innovation come with how you introduce the ingredients to customize it. Maybe it's the Texan in me, but you can add BBQ sauce or BBQ beef or even switch up a bit with Philly steak or jalapeno peppers. The point is, you can build it any way you want.
How would you explain your role to a neighbor? 
Ethan Pack: I'm a bridge between what companies are and can do today and what they want to be and need to do tomorrow. I'm connecting the business goals and trajectory with the realities of the current technology landscape and implementing what needs to change. If I explained it to my 6-year-old son, I would say, "Daddy helps connect people and processes and helps change companies for the better."
Why do financial services institutions need to modernize their operations?
Ethan Pack: We've all seen how quickly things can change and even be volatile. Clearly, there's some vitriol toward the traditional banking experience because it's not meeting the demands of knowing me as a person. Part of that has been internal slowness and unwillingness to change. But it's a different ballgame today, especially with big-tech players like Apple, Amazon, and Google entering the banking space. The industry is being widely disrupted. The bottom line is that financial service companies need to catch up because the vision of banking has completely changed.
When speaking with businesses, what kind of general guidance do you offer? 
Ethan Pack: Most are just trying to make heads or tails out of the vast landscape of technology solutions. They want to transform digitally but don't know where to start. Many incumbent technology leaders aren't willing to take the bold action needed. It feels very scary. My story to them is, "You have Millennial customers like me who expect to be treated as real humans, and your technology has to deliver those experiences." Sometimes, the tech stuff is the easy side, and the people stuff is hard because organizations have to fundamentally change.
How does integration play a part in solving those challenges?  
Ethan Pack: It comes back to helping people navigate their finances. You need to provide accurate, timely information. You can't do that without having systems bound together in a way that provides context and current information while eliminating discrepancies in data quality. Data is the new currency of this world, and a platform like Boomi's makes connections possible. It allows you to consolidate data in one place and make it available everywhere. I'm not a big buzzword bingo guy, but Boomi gives you a 360-degree view of customers so you can detect anything interesting, see where you can help them, and present yourself well as an organization.
Can you share your thoughts on improving diversity and inclusion in technology? 
Ethan Pack: I have volunteered in the past with Black Girls Code. I'm certainly aware that not many people look like me in technology. We all know the stats about diversity and representation in business leadership positions. I like helping people, setting the stage for others, and making sure people aren't overlooked. Just like the wheels of justice, the wheels of progress turn slowly. We're in this era of chaos and disconnection. I like playing a role in enabling clarity and creating more connections that leads to more opportunities for every person.
We all have twists and turns in our career trajectories. What journey led you to where you are? 
Ethan Pack: I was writing software, deploying software, and sitting with executives to explain software before age 20. In high school, I started working for this amazing small-business owner out of his house in Hendersonville, Tenn., taking corporate data from accounting systems and piping it into Microsoft Excel. Later, I founded a rap and hip-hop record label in the Nashville area and was burning the candle at both ends as a developer by day and music producer at night. Then I fell asleep at the wheel on July 22, 2003, and hit a utility pole. I fractured my pelvis, shattered my hip, and fractured my C3 vertebrae. I was life-flighted to the hospital and was in a coma for about a day and a half. I woke up expecting to be in my one-bedroom apartment and instead saw bright lights and was intubated. My first thought was that aliens had abducted me. I spent one month in the hospital, nine months in a wheelchair, another six or seven months using a walker, then another four or five months on a cane. But after rehab, I got right back into tech.
How does a traumatic event like that change your perspective?
Ethan Pack: When you know life is delicate, you have a different outlook. There are still things that I'm afraid of, but being bold is definitely not one of them.
Up Close With Ethan Pack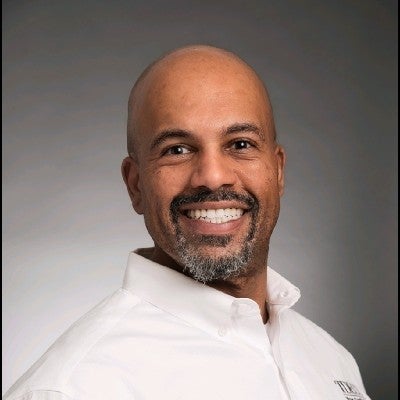 Role: President of The Pack Group, Inc.
Home: Houston, Texas
Family: Fiancée and a 6-year-old son
Education: Bachelor's degree in Business – Information Technology Management, Western Governors University
Career: His 25 years in IT includes enterprise architecture leadership roles at TDECU and the Stewart Title Company. The Pack Group provides digital transformation advisory services.
Cool Thing About Ethan: A fitness regimen has seen him drop over 100 pounds. "I'm hovering around 200 pounds and feel great. I'd rather push 310 pounds on a bench press than walk around with it."
Learn why organizations around the world choose the Boomi platform.