February 11th, 2015
Real-time customer data is critical for salespeople. But too often, getting the data they need can be challenging. For American Air Filter, the solution involved implementing Salesforce Sales Cloud while integrating it with SAP, making it easier to send back-office information seamlessly into Salesforce and push it out to the sales team in the field.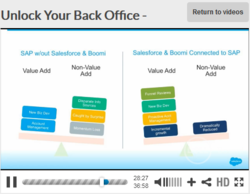 In this on-demand webinar, Rick Schibler, VP of IT, and Jerry McGuire, Western Regional Manager for American Air Filter, share the insights gained by connecting Salesforce Sales Cloud and SAP using Dell Boomi AtomSphere  integration Platform as a Service (iPaaS) to achieve benefits that include:
automated sales processes and increased sales productivity
reduced errors and more effective management of the lead-to-cash business process
increased revenue through value-added selling and proactive account management
Now, AAF's field sales teams have access to customer information in real time, and spend less time pulling reports and more time working in the field with customers.
Hosted by Keri Brooke, Product Marketing for Salesforce Sales Cloud, the webinar also includes William Corkery, VP of Sales and Business Development for Dell Boomi, who provides an overview of the landscape of integration and the changing needs of business.
Watch the webinar now to see how your business can benefit.