November 2nd, 2018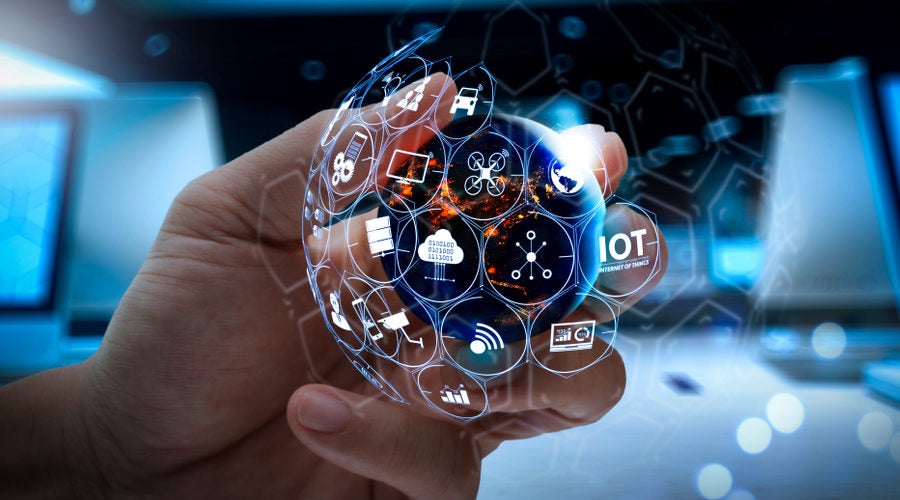 Innovation is important to us at Boomi — both being innovative ourselves and helping our customers be innovative. We're seeing a huge uptick of activity in areas such as IoT and blockchain, as organizations look to our technology to help integrate everything from data to devices, people, processes and beyond.
According to a survey of 500 IT professionals from cloud solutions vendor Sada Systems, artificial intelligence (AI), the Internet of Things (IoT) and blockchain are the three primary areas for emerging tech investments within enterprise organizations in 2018. And Business Insider predicts that more than 55 billion IoT devices will be in use by 2025, up from 9 billion in 2017 — with an overall organizational investment in IoT technologies of nearly $15 trillion.
Not only are these areas growing, but they are also related more closely than you might think. According to IDC, by 2019, 20 percent of all IoT deployments will have basic levels of blockchain services enabled.
There are numerous practical applications for emerging tech, and some Boomi customers are already using these innovations to provide services, improve business operations and drive towards digital transformation. At Boomi World 2018, November 5-7 in Las Vegas, we'll be highlighting fascinating use cases and customer stories, providing clear guidance on how to integrate these emerging technologies and their data into your enterprise.
Emerging tech will be threaded throughout the conference content, but if it is an area of particular interest for you, you won't want to miss these sessions:
Achieving Business Outcomes for IoT
Boomi is being used by customers and partners around the globe to help businesses improve, become more agile and move faster. Netherlands-based digitalAngel is one of these pioneering customers. Working closely with Boomi and Nalta Group, digitalAngel is creating one of the world's first open IoT platforms for connecting and managing data from any smart healthcare device.
In this session, Boomi's CTO, Michael Morton, will discuss how Boomi plays a key role in helping businesses. Representatives from digitalAngel will walk through how they are using Boomi as the foundation to their IoT network. They will highlight how Boomi is helping to increase the performance of elderly care living centers using data from smart mattresses.
Future Trends of The Connected Business
The pace of innovation and disruption is accelerating. It won't be too long before users in some part of your business raise their hands to adopt an emerging technological innovation — if they haven't already.
Boomi's Field CTO, Thameem Khan, will preview key technology paradigms such as robotic process automation, AI bots and blockchain. These innovations are now being adopted by leading-edge digital innovators.
You'll also see a demo of Boomi's blockchain connectivity capabilities and how they can prepare you to securely automate business transactions across a distributed, multi-party electronic ledger. Additionally, we'll introduce you to Betty, who makes automating repetitive tasks a breeze.
Emerging Tech in the Connections Expo
In this fast-paced world, Boomi ensures that its customers stay ahead of the curve with emerging and innovative technology. Join us in the Boomi Demo Grounds on the Expo floor to see live demonstrations, interact with Boomi experts, and learn more about how Boomi is working with artificial intelligence, bots, IoT, blockchain and more.
Emerging Tech for Boomi Partners
If you're a Boomi partner, we also have exclusive emerging tech content specifically for you. Boomi World Partner Summit features a session with Michael Morton and Boomi partner Hathority on "Achieving Outcomes for Emerging Tech."
You'll get to learn about Boomi's IoT and blockchain capabilities, plus see two demos from Hathority: an IoT demo on Smart Cities and a blockchain demo using Hyperledger connector. Plus, during a panel session hosted by Boomi's vice president of global business development, Dave Tavolaro, Hathority will talk about why they chose to work with Boomi on these IoT and blockchain initiatives.
Boomi World 2018 features a jam-packed agenda with dozens of breakout sessions, plus inspiring keynotes, customer success presentations, 1:1 workshops, a solutions expo, networking events and after-hours entertainment.

Join us at Boomi World 2018, November 5-7 in Las Vegas, to learn first-hand how Boomi can help your organization get the most value from AI, IoT, blockchain and other emerging and innovative technology.