March 9th, 2016
The Dell Boomi Community has long served as a key resource for our customers to find answers to their most important questions and learn best practices from their peers. Today, we announced the launch of the new and improved Dell Boomi Community which will make it even easier for developers, customers and partners to find information, collaborate, and get answers to questions related to AtomSphere® iPaaS, MDM, and API management solutions.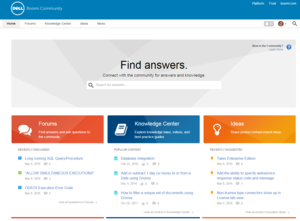 "Our Dell Boomi Community plays an instrumental role in helping our customers achieve success," said Chris McNabb, general manager at Dell Boomi. "With this launch, we're ensuring that the Dell Boomi community continues to grow and thrive by offering even greater benefits, including collaboration between developers for sharing processes, components and connectors, faster self-service answers to questions, and access to the vital online resources they need to be successful."
Dell Boomi is committed to knowledge sharing and fostering collaboration. The relaunch of the Dell Boomi Community:
provides greater access to the world's largest collection of Dell Boomi experts
promotes peer-to-peer engagement among customers and partners
leads to faster customer onboarding through extensive learning resources
The updates also allow visitors to discuss Dell Boomi product highlights and best practices, and join topic-based user groups, giving customers access to advice and tips from experts with experience solving similar integration challenges.
"We're excited about the new Dell Boomi Community because it will drive an improved customer and partner experience by providing dramatically faster self-service access to more resources, helping customers accelerate their time to value," said Gary Rinedollar, vice president of global alliances and business development at Appirio. "It also gives Dell Boomi partners the opportunity to demonstrate our expertise with the platform, enabling us to provide even better service to our customers and also attract potential new customers."
Read the full announcement here.