The Dell Boomi NetSuite–Salesforce Integration Accelerator lets you quickly and simply configure the necessary connections between Salesforce CRM and NetSuite ERP. A non-technical user can enter Salesforce and NetSuite credentials and activate Boomi's pre-defined data mappings to automate the order-to-cash process, automating operations, ensuring consistency across systems, and improving visibility into accounts. Build transparency and insights into critical processes with unified data from your CRM and ERP applications.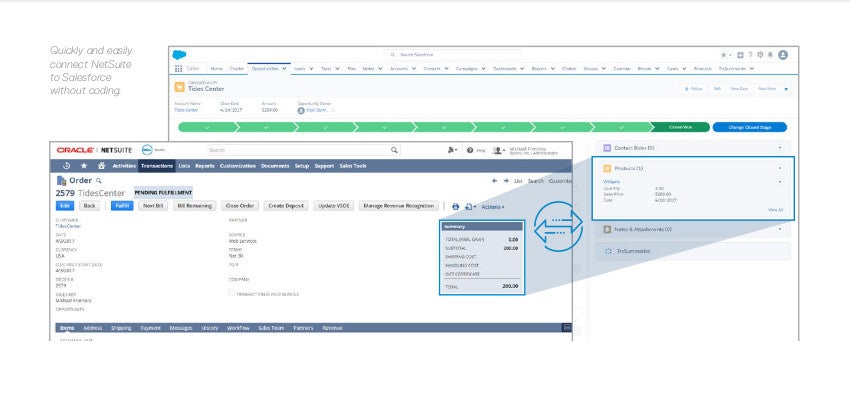 NetSuite to Salesforce Accelerator Demo
Learn how Dell Boomi's NetSuite – Salesforce Accelerator allows you to quickly and simply configure connections between Salesforce CRM and NetSuite ERP.
Optimize Your Order-to-Cash Workflow
Automatic conversion of Salesforce opportunities into NetSuite orders
Visibility into all opportunities, contacts, tasks, sales, orders, and invoices
Ability to attach new orders from existing customers into existing records
Automated Salesforce lookups of customers triggered by NetSuite order creation.
Automated updates of billing and shipping contacts from Salesforce to NetSuite
Guaranteed synchronization between systems
Enterprise Integration Capabilities without the Complexity
Drag-and-drop workflow — no coding required
Support for any type of business logic – from simple to complex
Access to hundreds of applications and data sources
Pre-built connectors, and ability to build your own
Visual any-to-any data transformation
Industry-certified security model
Instantly deploy integrations between cloud applications and on-premises systems
On-demand access to integration platform
No software or appliances to install or maintain
On-demand "per connection" pricing
Low maintenance solution with frequent releases & updates
On-demand zero-footprint deployment option
Full-featured, no-risk trial — on-demand
Get Started with Dell Boomi Integration
Self-Guided Product Tour: Integrating Salesforce and NetSuite OpenAir
This series of short video clips shows you how Dell...
NetSuite-Salesforce Integration Accelerator
Unify Your ERP and CRM with Out-of-the-Box...
Self-Guided Product Tour: Integrating NetSuite and Salesforce
Learn more about Dell Boomi, at your own pace. This...