RPM Consolidated Services, EDI in the Cloud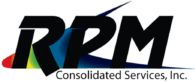 RPM Consolidated Services, Inc.
Défis technologiques
RPM had an extensive list of 80+ customers that wanted to set up EDI with them. In order to accomplish this, they required a scalable solution that would be low maintenance and flexible enough to meet their unique business requirements.
Comment Boomi est venu en aide
RPM was previously a customer of Boomi's legacy on-premises Integration Platform. Impressed with the value proposition of a SaaS platform and the enterprise features included, they decided to upgrade to Boomi AtomSphere. The implementation process was quick and painless and they were able to build an integration process that involved converting a Flat File to EDI and then sending it via FTP to a Trading Partner.
Two months post-production, RPM already has several customers set-up with EDI via AtomSphere and they are confident that they can scale to accommodate all of their customer requests quickly and easily. RPM reports significant cost savings as a result of implementing AtomSphere as they have been able to streamline and automate previously manual business processes. For example, the majority of their invoicing process is now done electronically.