Integrating Zuora
and Boomi
Boomi AtomSphere® enables Zuora users to reduce data errors, minimize IT expenditures, and realize their goal of having fully integrated and synchronized customer subscription information to automate businesses processes. Whether connecting Z-Billing to financial, ERP, or CRM systems, AtomSphere is the centralized platform to deliver enterprise-grade integration with all of the benefits you would expect from a cloud-based solution.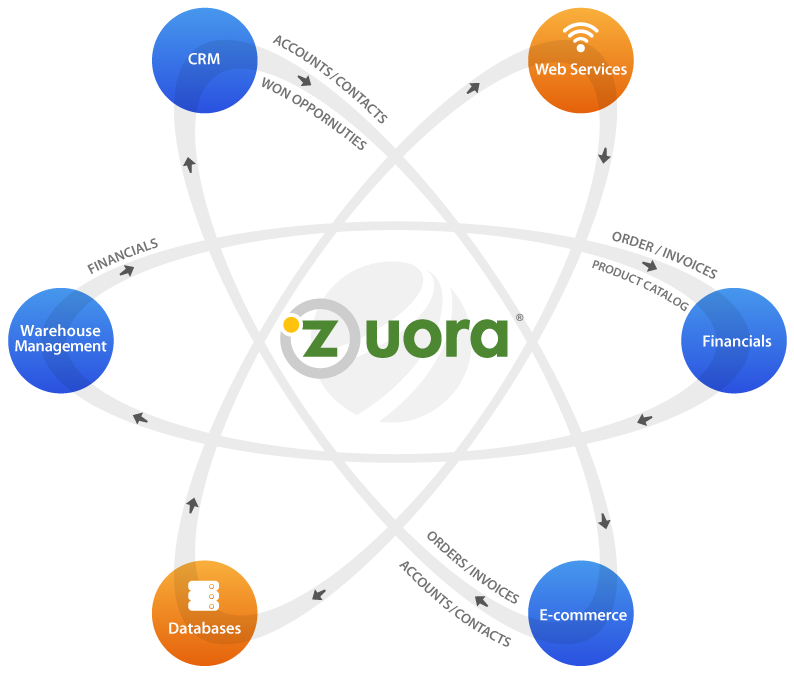 Automate Your Back-Office Processes
Seamless synchronization of invoice, payment, and credit memo details
Transparency of invoice/ payment with G/L for reporting and compliance
Automated customer creation and update handling among systems
Retroactive billing or back dated adjustments
Synchronization of usage-based billing statistics
Validation of system data and duplicate checking
Dynamic error messaging and handling during invoice process runs
Enterprise Integration Capabilities without the Complexity
Drag-and-drop workflow — no coding required
Support for simple to complex business logic
Access to hundreds of applications and data sources
Pre-built connectors, and ability to build your own
Visual any-to-any data transformation Industry-certified security model
Industry-certified security model
Instantly deploy integrations between cloud applications and on-premises systems
On-demand access to integration platform
No software or appliances to install or maintain
On-demand "per connection" pricing
Low maintenance solution with frequent releases & updates
On-demand zero-footprint deployment option
Full-featured, no-risk trial — on-demand
Get Started with Dell Boomi Integration
Security Overview
For any SaaS application or Cloud service, security is a multi-dimensional business concern that must be carefully scrutinized. At Boomi, we are keenly aware that our AtomSphere platform manages the integration of your most critical business information and business...
Boomi Overview
Connect Every Part of Your Business to Transform How You Do Business