Integrating Oracle EBS
and Boomi
Have you hit a wall when it comes to integrating your on-premises ERP application with your SaaS applications. Boomi AtomSphere® allows you to easily integrate Oracle® E-Business Suite (EBS) with other applications, so you can seamlessly share data where its needed to automate business processes, and to provide your users a 360-degree view of business-critical information.
Whether connecting Oracle EBS with SaaS and on-premises applications from various lines of business or across geographies, AtomSphere is the centralized platform to deliver enterprise-grade integration with all of the benefits you would expect from a cloud-based solution. And Boomi's PL/SQL procedure intelligence is built into our Oracle connector to reduce the complexity of working with SQL commands, as well as to simplify the configuration of integration processes.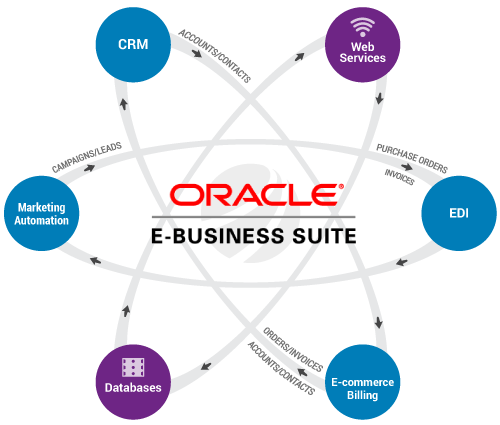 Automate Your Back-Office Processes
Won opportunities (CRM) to Invoice / Order to Cash
Replicate customer account information from e-commerce/billing to Oracle EBS
Synchronize product catalog from CRM to Oracle EBS
Update Oracle EBS with employee data from Payroll
Import invoice/ payment info from financials to provide visibility to sales
Orders/invoices and shipment notifications to EDI
Enterprise Integration Capabilities without the Complexity
Drag-and-drop workflow — no coding required
Support for simple to complex business logic
Access to hundreds of applications and data sources
Pre-built connectors, and ability to build your own
Visual any-to-any data transformation
Industry-certified security model
Instantly deploy integrations between cloud applications and on-premises systems
On-demand access to integration platform
No software or appliances to install or maintain
On-demand "per connection" pricing
Low maintenance solution with frequent releases & updates
On-demand zero-footprint deployment option
Full-featured, no-risk trial — on-demand
Get Started with Dell Boomi Integration
Boomi Overview
Connect Every Part of Your Business to Transform How You...
Kelly-Moore Paints Adopts Dell Boomi for System Integration with Oracle E-Business Suite
This is re-posted from the Direct2Dell blog, by...
Dell Boomi AtomSphere Overview
Boomi AtomSphere, the industry's first and leading integration cloud...