Boomi for Taleo Integration
Extend Taleo throughout your business and share the power of having a unified and up-to-date view of human capital information.
Boomi AtomSphere® enables you to seamlessly share information about employment opportunities and candidates, along with employee performance information wherever it's needed. Unfortunately for many organizations, human resources information resides in disparate application silos — AtomSphere allows you to rapidly integrate your talent management information in Taleo with external service provider applications, internal HR systems and data warehouses. AtomSphere is the centralized platform to deliver enterprise-wide application integration with all of the benefits you would expect from a cloud-based solution.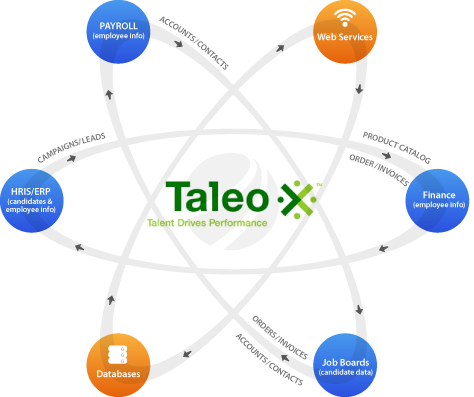 Automate Your HR Processes
Synchronize candidate and employee information from your Taeo to your HRIS/ ERP
Connect information from Taleo with 3rd-party service providers to streamline your on-boarding process
Provide candidate feedback, process status and determinations information to external recruiter portals
Share employee performance information with other internal systems used for determining promotions, payroll changes and awards
Lookup data in legacy HR systems to verify whether candidate information already exists

Enterprise Integration Capabilities without the Complexity
Drag-and-drop workflow — no coding required
Support for simple to complex business logic
Access to hundreds of applications and data sources
Pre-built connectors, and ability to build your own Visual any-to-any data transformation
Industry-certified security model
Instantly deploy integrations between cloud applications and on-premises systems
On-demand access to integration platform
No software or appliances to install or maintain
On-demand "per connection" pricing
Low maintenance solution with frequent releases & updates
On-demand zero-footprint deployment option
Full-featured, no-risk trial — on-demand
Get Started with Dell Boomi Integration
Cloud-Managed Master Data Management
Duration: 60 minutes Join Dell Boomi for a...