Dell Boomi for SAP SuccessFactors Integration
Leverage Cloud Integration to Improve Your Business Execution Strategy
Successfactors
Integration Suites
Boomi AtomSphere®, the industry's first and leading integration platform-as-a-service, connects any combination of cloud and on-premises applications without coding, software, or appliances. SuccessFactors customers rely on AtomSphere to automate HR business processes, connecting mission-critical data to other lines of business throughout the organization to align employees with corporate strategy and improve organizational performance.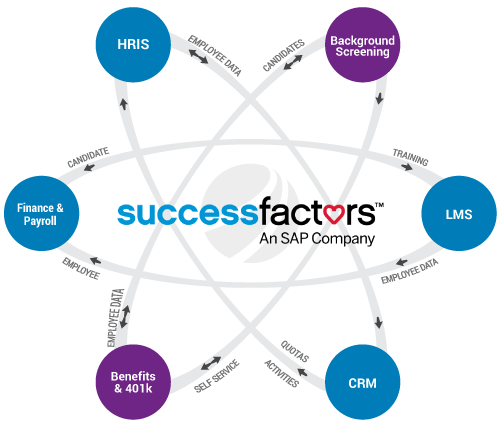 Automate Your Back-Office Processes
Quota and Activities from CRM to Goals in SuccessFactors
Send core HR data in Employee Central to Payroll
Benefits and Time Management solutions to create a strategic system of record and foundation for all talent decisions
Share employee performance information with other internal systems used for determining promotions, payroll changes and awards
Create a complete view of employees by bringing together employee development and performance management information
Migrate data from legacy systems or databases to ensure that no data is lost in your transition to the cloud
Enterprise Integration Capabilities without the Complexity
Drag-and-drop workflow — no coding required
Support for simple to complex business logic
Access to hundreds of applications and data sources
Pre-built connectors, and ability to build your own
Visual any-to-any data transformation Industry-certified security model
Industry-certified security model
Instantly deploy integrations between cloud applications and on-premises systems
On-demand access to integration platform
No software or appliances to install or maintain
On-demand "per connection" pricing
Low maintenance solution with frequent releases & updates
On-demand zero-footprint deployment option
Full-featured, no-risk trial — on-demand
Get Started with Dell Boomi Integration
SuccessFactors Integration Guidebook
Read this guidebook for tips and best practices to successfully...
Dell Boomi for SuccessFactors Integration