June 29th, 2017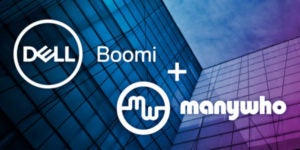 In March this year, Dell Boomi bought ManyWho. This was the first acquisition in the history of our company. So why ManyWho and why now?
ManyWho was co-founded and led by CEO Steve Wood, who has been focused on modernizing workflows, automating business processes, and bringing low-code development to the IT industry for more than 20 years.
Steve recently wrote a great post on LinkedIn about why he sold his company to Boomi. In it, he explains how he sees ManyWho and Boomi as a perfect match. I agree. 🙂
Dell Boomi, like ManyWho, is an organization that is manically focused on customer satisfaction and success. Boomi has made significant investments to remain the leader in the industry and ensure our customers receive increasing value out of their Boomi investments.
For example, we have built patented predictive analytics into our platform that is used by our customer support teams. The tool constantly checks usage and satisfaction indicators early on so we can proactively initiate contact with customers to help them get the best from our integration platform.
This is just one example of how Boomi is dedicated to ensuring customer success. Day in and day out, Boomi is intent on helping our customers overcome their operational challenges, reach their organizational objectives, and modernize their enterprises to keep pace with demands from the business and drive digital transformation.
The Digital Transformation Checklist
Ok … apologies. Digital Transformation may be one of the most over-hyped terms in IT today, but I lack a better term at the moment. With the Boomi cloud-native integration platform, our more than 5,800 customers are able to advance their digital transformation through cloud-first strategies.
They can easily go with "best of breed" SaaS offerings to drive competitive advantage, create mobile apps that deliver services to their customers' devices, modernize legacy integration, API-enable their enterprises, and create workflows to increase efficiencies through business process automation.
From my perspective, organizations need a number of enabling technologies in order to successfully transition their company into a highly productive, 21st-century organization. The set of key capabilities necessary to achieve the goals of creating modern, connected businesses include:
1. Support for rapidly multiplying integration scenarios. This includes cloud, mobile, the Internet of Things, EDI, APIs, and legacy technologies like ETL. One-trick pony integration strategies simply will not work today. Organizations need to be able to respond to the integration diversity that is upon them.
2. Manage data quality across an expanding landscape. Bad data means bad insights, and this will cripple a company. Modern companies must manage and create high quality data at the source, ensuring that there is always a correct version of the truth. And they then need to manage where that data needs to go once it is approved as "correct for the enterprise."
3. Create and deploy apps at the speed of business. Your data and apps need to run on any form factor automatically, as well as working just as easily online and offline. And development and deployment speed is critical. Employees need these apps now — not next quarter — if you want to stay ahead of the competition.
4. Automate business through workflows. Workflows are business processes that connect people (your employees and partners) to the applications and data they need, regardless of where the applications or data reside (in the cloud or on-premise). Ultimately, this is what running a business is all about: getting the right data to the right application or employee at the right time.
5. Do it all from a unified platform. Only through a complete platform can an organization holistically orchestrate all of the above requirements for driving digital transformation. APIs and microservices are great examples where partial or incomplete management environments will only provide short-term success. These services will immediately start degrading without a complete platform to support their full integration and workflow lifecycle.
ManyWho Completes the Integration Cycle
With ManyWho, Boomi now is the one-stop platform to help our customers with all their digital transformation needs. It is the tool for enabling digital transformation in your organization. We provide the ability to move, manage, govern and — now with ManyWho — orchestrate across your hybrid IT landscape.
Most importantly, Boomi with ManyWho gives our customers a complete low-code, cloud-native platform for building their connected business. With Boomi in place, our customers can achieve the ultimate goal of digital transformation: Connect everything and engage everywhere.
Chris McNabb is Dell Boomi's chief executive officer.