January 6th, 2015
In the next age of computing, no enterprise function will be transformed more and need to reinvent itself more than the IT department, according to Holger Mueller, VP and Principal Analyst, Constellation Research, during a recent thought leadership session he hosted, Cloud Fuels a Fundamental Shift in Computing.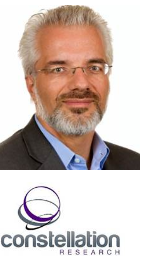 In this forward-looking, wide-ranging discussion, Holger explains that IT will need to accelerate as business undergoes a fundamental shift away from constraint-based computing to demand-based computing, and as next-generation business processes are created.
Among other insights Holger shared was that ultimately, IT will play a vital role in digital transformation by facilitating data-driven decisions and innovation. That means that roles and work will also change to a more strategic focus.
To learn how you'll need to prepare for next-generation IT and how it will impact your business, watch the webinar now.