October 8th, 2015
There are few challenges as daunting as consolidating, cleansing and synchronizing your data across multiple domains and data sources.
As your organization manages more information—from even more cloud and on-premises sources—it becomes increasingly important to ensure consistency and accuracy, without straining your already-limited resources.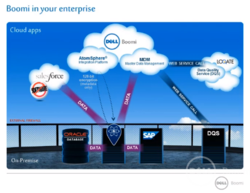 In our new on-demand webinar, you'll hear from Geoff Bockelmann, Product Manager for MDM at Dell Boomi, who'll show you how cloud Master Data Management (MDM) can help your organization ensure data accuracy and consistency, as well as improve performance and reduce costs.
You'll learn how to:
Adopt cloud MDM deployment in a hybrid IT environment
Model, match, synchronize, cleanse and enrich master data across domains
Scale your MDM to accommodate growth in data varieties, business applications and user demands
Implement comprehensive data-governance controls
For more information on Dell Boomi Master Data Management, visit our website, or download our MDM datasheet.