January 8th, 2015
If your organization wants to fully automate and optimize your sales process, it's critical to integrate systems of engagement like Salesforce with systems of record such as SAP. But what, exactly, is involved?
On January 15, attend an hour-long webinar featuring American Air Filter Company—as well as Dell Boomi—to learn how connecting Salesforce to SAP data helped the company unlock the value of its IT investments.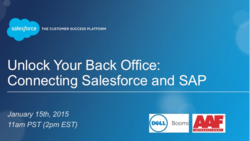 You'll hear first-hand how American Air Filter was able to meet their business objectives for a new CRM system that:
Eliminates waste, automates and drives revenue
Provides one source of the customer truth
Obtains internal adoption and employee engagement
Provides accessibility (mobility is key)
American Air Filter will share their experience in implementing Salesforce CRM and discuss how integrating its business data allowed made it possible to generate additional revenue by facilitating best practices such as team selling. Presenters includeJerry McGuire and Rick Schibler of American Air Filter Company, and William Corkery of Dell Boomi. 
Date:                     January 15, 2015
Time:                    11:00 AM PST (60 minutes)
Registration:        Use this link to Register and Attend
Take this opportunity to see how you can extend the business value of your existing SAP investments by building a layer of agility and connectivity, making it possible to seamlessly connect to Salesforce. All so your salesforce can sell faster and smarter—from anywhere.