April 8th, 2015
In a new report from Enterprise Management Associates, the firm notes, "Dell Boomi's strategy of combining integration, MDM, and API management capabilities with authentication and security as a single PaaS supports rapid time to value and secure, enterprise-grade delivery."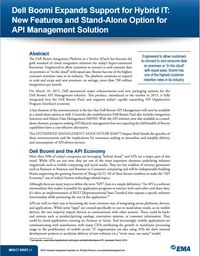 Get the report, "Dell Boomi Expands Support for Hybrid IT: New Features and Stand-Alone Option for API Management Solution," which highlights our recent API Management release. The now-standalone API Management includes the ability to create, publish and manage APIs, and that we have enhanced it to include:
API Design, which simplifies management of services across the enterprise
API Generate, to modernize legacy web services for centralized management
REST enhancements, for automation of documentation for REST services, making it easier for developers to consume new and enhanced services
EMA also points out that Dell Boomi API Management was designed to address the challenge of incorporating new technology into IT systems, while maintaining security and simplifying the task of API Management through a GUI-driven engine.
The report describes the value proposition of the Dell Boomi multi-purpose PaaS as a whole, which it cites as one of the first to be "born in the cloud," focused on bringing customers enhancements specifically designed for ease of use and faster time to value.
EMA also states that Dell Boomi integration Platform as a Service (iPaaS) "has become the gold standard of cloud integration solutions."
Learn more about Dell Boomi API Management and get the report.