June 20th, 2013
In the end, it's about choice. To continue to freely choose where and how you run and deliver applications and maintain your own particular security and compliance scheme, you need an integration scheme that doesn't require you to change your application architecture. As explained by Tom Barton, head of integration services at Novartis, at the Cloud Slam conference this week.
Tom Barton of Novartis had the opportunity again this week to speak about using an integration cloud (cloud-based middleware) to connect applications and systems. This time it was at the healthcare-focused Cloud Slam conference in Santa Clara, CA.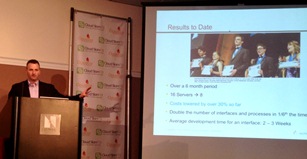 For this audience, so focused on compliance and security issues, Tom stressed a sometimes-overlooked feature of the Boomi AtomSphere system: it doesn't change your application architecture. None of your data has to pass through the Boomi cloud service. As Tom put it, "When we deploy Boomi for an integration, where does the data go? Nowhere. It stays on the Novartis network."
This is the beauty of our AtomSphere cloud integration platform: customers get to use cloud for all its benefits, but without having to lose any of the hard work, investment, and fine-tuning they've put into their systems architecture over the years. With AtomSphere, you design, build, and test integrations in a single-instance multi-tenant environment delivered as a service to anyone's web browser; so you can carry out these parts of the integration process instantly, from anywhere in the world, and collaborating with as much staff, consultants, or stakeholders you need, while using the crowdsourced Boomi Suggest analytical engine to speed data mapping without exposing intellectual property.
Then when you go into production, the Atom deploys to your existing systems—on premises or off, cloud or non-cloud. So it doesn't add any node, system, or endpoint and therefore doesn't create any security or compliance risk.
Which doesn't mean that you can't use Boomi's global, secure, high-availability cloud to host your integrations, of course. You certainly can, if that's the right approach for your needs. It just means that Boomi gives you choice; while letting you stay in control of your architecture. That's a pretty good combination, don't you think?