January 24th, 2014
Dell Boomi's AtomSphere platform is not just about integrating SaaS and cloud services. Boomi is really about versatility and speed of integration for any kind of application or data store, and in fact on-premises integration is Boomi's pedigree. iPaaS as a category may be considered a lightweight cloud integration platform for connecting on-premises applications and cloud applications, but customers like Novartis Pharmaceuticals are using Boomi AtomSphere for much more than this. Others are using it for enterprise-grade EDI integration with trading partners.
Along those lines, one of the most illuminating scenarios for a Boomi implementation is an on-premises enterprise software business suite connecting to an EDI system.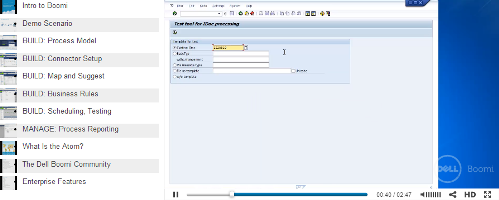 And recently we posted a detailed self-guided product tour that shows exactly this.
In the product tour, Dell Boomi pre-sales engineer Wes Manning shows how simple and quick it is to configure Boomi to connect orders generated by an SAP system to an FTP repository for EDI documents. The speed and agility with which this non-cloud integration can be built, tested, and managed may surprise you if you were thinking of Boomi only as a SaaS connector.
Click here to access the demonstration.