October 11th, 2018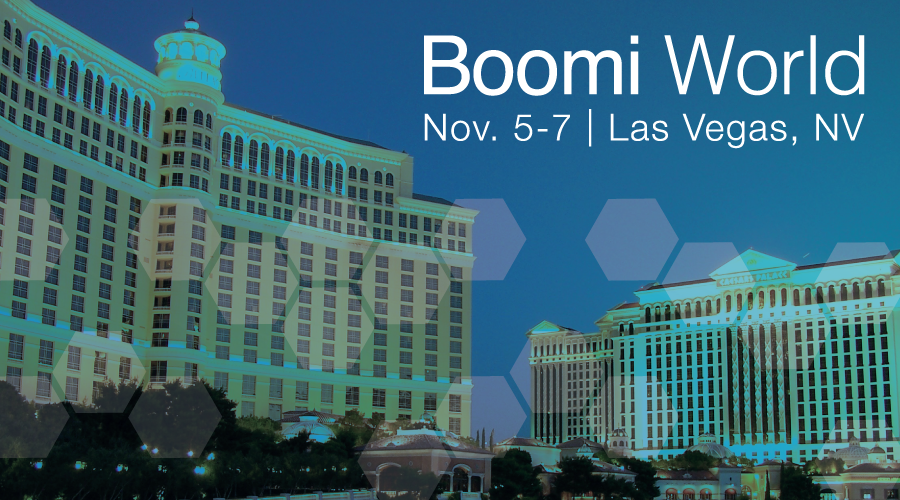 Boomi World is fast approaching! As always, our customers will be the stars of the show, both as attendees and as speakers across a diverse mix of keynote talks and breakout presentations.
But Boomi World is also the event of the year for our partners. They are the most valuable players in the Boomi ecosystem, and they work with us side-by-side throughout the year to support our customers and ensure they get the greatest return from their investments in the Boomi integration cloud.
Besides the opportunity for our partners to participate in Boomi World, we will also host a dedicated Partner Summit, where we'll come together with our partners to share plans, ideas and strategies for how we can offer even better support and guidance to our mutual customers.
The Boomi World Partner Summit will be held the afternoon of Monday, Nov. 5. All members of the global Boomi Partner Program who are registered for Boomi World are invited.
The main conference agenda also includes a number of breakout sessions presented by partners and joint customers, sharing their stories and best practices for integrating applications and data.
We sat down with David Tavolaro, Dell Boomi's vice president of global business development, to get a preview of what partners can expect at the integration industry's event of the year.
If you had to pick one reason why partners should attend the Boomi World Partner Summit and Boomi World, what would it be?
David Tavolaro: I'd say the most important reason to attend the Boomi World Partner Summit and Boomi World is for those face-to-face interactions. The Boomi partner team is really excited to spend some quality time with our partners and customers!
It's a great opportunity for partners to schedule meetings with Boomi executives, product management, sales, marketing and more. This direct engagement and dialog is a unique and invaluable way for our partners to gain an even better understanding of Boomi and how we can help their businesses thrive as we work together to support our mutual customers. There's an energy from being at the conference and hearing news and detailed information first-hand that you just can't replicate anywhere else.
And it's not just the ability to meet with Boomi executives but also the chance to meet and learn from other partners and joint customers. Sometimes you can strike up a conversation by chance that leads to a great breakthrough for your business. At the very least, you will be able to hear detailed updates into our plans and thinking while gaining invaluable insights from talking with all the customers at the show. No matter what, you will get a great return on the time invested at Boomi World.
If you are a Boomi partner, then the Boomi World Partner Summit and Boomi World is definitely the place you should be! Join us at Boomi World in Las Vegas, November 5-7. Sign up now!
What can partners expect from their experience at Boomi World?
David Tavolaro: Boomi World and the Boomi World Partner Summit give us the perfect opportunity to bring our partners together. We want to help our partners, provide multiple touch points for engagement, and innovate together to deliver the best possible support and services for our customers.
The interactive settings allow us to share information, build and strengthen relationships, and discuss ways we can work together even better. We're putting more investments than ever into sales enablement with our partners, with the aim to make it easier for partners to deliver superior services to our mutual partners. It's a chance for us to make sure our partners know about the latest and greatest developments coming from Boomi.
What will partners learn during the Boomi World Partner Summit?
David Tavolaro: We've got a great agenda for the Partner Summit. I'll be sharing the new plans and enablement programs that the Boomi partner team has put together, including enhancements to our existing partner program.
We will also have a management panel discussion covering the state of the market and our strategy to address it. Steve Wood, our chief product officer, will talk about the product road map and the new features we will be rolling out that will be of particular relevance to partners — and partners will have the ability to ask questions.
There will also be plenty of partner-specific content. There's a Partner Playbook with "how-and-why-to" training breakout session. We've got other breakout sessions lined up that feature partner best practices, covering IT transformation, future trends, and how to build an integration center of excellence.
And in one of my favorite parts of the Summit, we will host a partner panel discussion covering some of the most innovative solutions that partners have built on the Boomi platform.
Finally, we will take the time to honor some of our top performing partners with awards at the Summit. There are seven categories for partner awards. The majority are broad "partner of the year" awards for each region or type of partner, but this year we are also giving an award for partner innovation.
The Boomi World Partner Summit is all about recognizing, honoring and cultivating the incredible companies that provide invaluable support to us and our mutual customers. I'm kind of partial to them.
Hey Boomi Partners! Join us at the Boomi World Partner Summit and Boomi World, Nov. 5-7, in Las Vegas! It's the event of the year for all the great members of the Boomi ecosystem.
In addition to the Partner Summit, what will be some other great things Boomi partners can experience at Boomi World?
David Tavolaro: There is a lot of content at Boomi World that will be of keen interest to partners. Our keynotes will give partners a chance to hear first-hand from many of our top executives to better understand our messaging, strategy and vision. And they'll also be able to hear from leading industry analysts to get valuable insights into the trends in the industry.
There are also 30+ breakout sessions, covering the spectrum of integration best-practices and customer stories. Attending sessions is a great way for partners to learn all the broad range of ways our customers are using Boomi integration to transform their businesses.
The Connections Expo will be a busy area. We'll have a partner enablement presence, with staffed and self-service kiosks where partners can explore and see demos of both existing and new enablement tools, including a brand new partner portal experience. Not only can partners get any questions answered about the partner program and how to find the right resources, there's also the opportunity to provide direct feedback on enhancements. And, of course, it's always interesting for partners to see what their peers are doing.
There are also pre-conference training and certification workshops on Nov. 4 and 5. Some partners might opt to send multiple representatives: business reps can attend the Partner Summit while technical reps can attend one of our five training courses.
Plus, you can't forget about the parties. It's Vegas, baby, so we do intend to have plenty of fun along with all the serious business discussions.
See you at Boomi World!
Boomi World 2018 features a jam-packed agenda with dozens of breakout sessions, inspiring keynotes, customer success presentations, 1:1 workshops, a solutions expo, networking events and after-hours entertainment. Learn more at Boomi World Vegas.