November 8th, 2018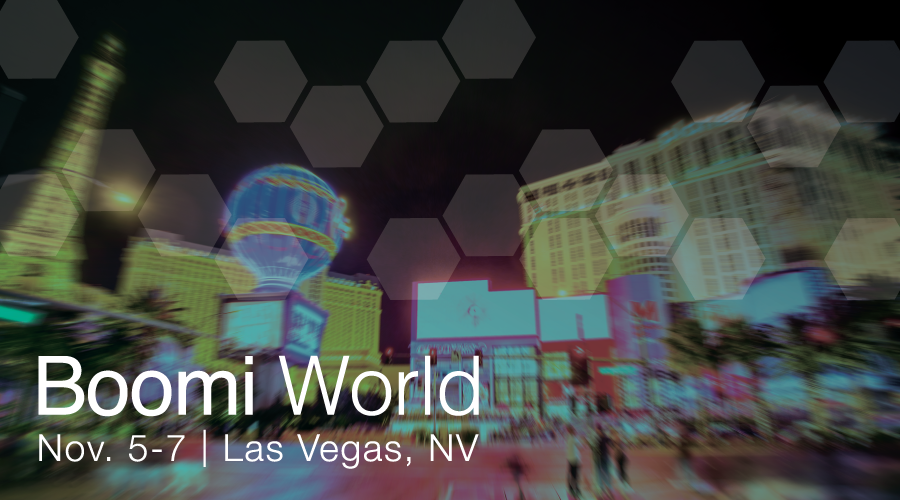 Boomi World Day Two focused on the future of integration, application development, workflow automation and digital transformation.
Steve Wood, Boomi's chief product officer, kicked off the morning with a keynote presentation detailing Boomi's vision and plan for its platform.
Wood began by looking back at what Boomi has achieved since its founding — simplifying and streamlining how organizations can create and manage integrations.
Throughout the history of the integration cloud market, Boomi has been the leader. Or, as Wood put it, "Just drop the mic. We're simply the best at integration. That's been established."
But the company isn't resting on its success, which includes 64,000 users, 7,500 customers and business results that are transforming organizations and improving the lives of their customers.
What's next? In 2008, Boomi pioneered the integration platform as a service (iPaaS) market. Now Boomi is reinventing the category again.
"The "i" in iPaaS is now all about intelligence," Wood said. "This is what we mean when we talk about iPaaS 2.0."
That intelligence begins with 30 terabytes of anonymized metadata from thousands of customers building billions of integrations on the Boomi platform.
The new enhancements, which will be available in the coming months, draws on this intelligence to make real-time suggestions for building integrations, creating flows, and managing key data-centric operations.
"We're the market leader, so we get to do this," Wood said. "Going forward, we won't consider any product to be truly iPaaS if it can't deliver the capabilities I'm showing you today."
Wood demonstrated how Boomi's refined platform will make it even easier for organizations to build integrations and flows while seamlessly helping business and IT teams work together.
For example, the updated platform will offer a streamlined dashboard for tracking products and conversations. A new chatbot feature delivers updates from peers and system events.
Building an integration becomes as easy as selecting the applications to integrate, accepting or rejecting a few recommendations offered by Boomi's AI-driven interface, and testing and deploying with just a couple clicks of the mouse.
"Just drop the mic. We're simply the best at integration. That's been established."

— Steve Wood, Chief Product Officer, Dell Boomi
Wood also demonstrated Boomi's upcoming API Management capabilities, with an intuitive and streamlined graphical interface. The new API features will make it  easy for a wide-range of business users and IT developers to work together to publish, manage and use API services.
"We've listened to you and your suggestions, and we've worked hard over the past year to build our new approach to API Management," Wood said. "A lot of people think that integration stops at the API layer, but if you're using data to create workflows, you're really connecting people. That means integration is moving above the API layer. You need a complete, unified platform so you can connect to any application or data source."
The world is changing, and organizations need to be good at changing quickly. It is the only way to survive and thrive in this digital era, Wood said.
"Ten years ago, we were were excited to develop a really quick and easy way to integrate applications," he explained. "Today, it no longer makes sense simply to talk about connecting data or apps. We're now reaching up and connecting to people, and we're reaching out and connecting to things, including mobile and IoT devices on the edge of networks."
Why Organizations Need iPaaS 2.0
Following Wood's presentation, John R. Rymer, vice president and principal analyst at Forrester Research, spoke about the rapidly growing importance of low-code platforms to address the insatiable integration demands of today's complex hybrid IT infrastructures.
Drawing on Forrester's recent surveys of developers and their work on digital transformation projects, Rymer painted a telling picture of the state of enterprise IT.
"We're stuck," he said, pointing out that over the past few years, IT organizations haven't been able to accelerate their delivery of software. "We're better off than we were ten years ago, but it's clear that we're facing challenges."
The speed of software delivery really, really matters, because software is what runs the businesses.
"Some companies haven't realized this yet," Rymer said. "But every company is now a software company."
"Ultimately, digital transformation is about using software to bring about change."

— John Rymer, Vice President and Principal Analyst, Forrester Research
Another indication of being stuck? The motivations behind digital transformation projects today. Forrester's research shows that cost reduction is the leading motivation for why businesses invest in digital transformation efforts.
"Cost reduction is good," Rymer explained, "but that's really focused on optimizing what you already have today, instead of imagining something bold and new."
That approach won't help organizations reach their ultimate goal of transforming their enterprise. The key to digital transformation? Software.
"Ultimately, digital transformation is about using software to bring about change," Rymer said.
Fortunately, enterprises are realizing that they need to change how they build IT systems, including how they create applications and connect them together.
Rymer said that some companies are now embedding developers in business units. By working directly with the ultimate users of the organization's applications and data, the developers can work more quickly and efficiently to produce IT services that support business innovation.
And, critically, enterprises are embracing low-code development. In the past two years, the number of companies focused on adopting low-code platforms has increased 20 percent. Now, more than 60 percent of companies are using low-code.
Rymer expects that number to keep rising, as more CIOs and IT organizations recognize the value of building digital processes instead of engaging in laborious custom-coding projects that create hard to management, inflexible integrations.
The importance of integration is only increasing as IT organizations learn to manage and optimize customer journeys through business design and rapid, low-code integration.
Rymer concluded with a call to action for anyone involved in integration, noting that they can be the drivers of the software revolution that's powering organizational transformation.
Ready for more Boomi World? We are going on tour with Boomi World London and Boomi World Sydney for next year. Boomi World will be in Washington, D.C. for 2019. Stay tuned for more info!