EDI is an established method for passing transactional data (e.g., orders, invoices, confirmations) between business partners. Boomi EDI allows you to manage a trading partner network of any size using the scalable and secure Boomi platform.
Your business can easily exchange EDI documents and manage trading partner relationships without the burden of installing and maintaining software.
Drag-and-drop interface to configure trading partner profiles and processes
Supports all standard EDI formats
Optional EDI Managed Service provides complete management of your EDI transactions
Powerful data transformation capabilities to-from EDI document
No software to purchase or maintain
Boomi EDI makes it easy to setup and exchange documents with your trading partners, as well as to rapidly update your transaction processes to meet the evolving needs of your business.
Define
Set up and manage connections to your trading partners – whether you will interact with them directly or through a VAN – including communication methods, document processing preferences and validation rules.
Build
Use the Boomi drag-and-drop workflow interface to configure your EDI transaction processes, as well as data mapping and transformations between EDI documents and your applications, flat files, XML and Database formats.
Deploy
Run your EDI transactions from Dell Boomi's Atom Cloud on our secure infrastructure, or deploy a Boomi Atom runtime to your local premises to connect with applications residing behind your firewall. Regardless of where you deploy your Atom(s), you still have total control over your environment.
Manage
Boomi provides a centralized environment to monitor all your EDI transactions and other application integration processes, so that you have full understanding of what is happening across your critical business systems.

First Source Improves Customer Service with Boomi EDI
"By receiving an order electronically through Dell Boomi EDI, we are able to process the order extremely quickly with 100 percent accuracy."
Kelley Parkes, Director of Technical Operations, First Source
Connect your trading partners, applications, and data seamlessly.
A complete EDI solution, available from your web browser: Boomi EDI provides a complete, cloud-based EDI gateway – from trading partner setup, to data transformations, workflow configuration, communication testing and transaction monitoring.
Application Modernization: Unlock legacy systems data for easy consumption by new applications.
Industry standard connectivity options: Connect to the full range of trading partner communication requirements – AS2 (Drummond certified), FTP/Secure FTP, or Web Services using SOAP or HTML.
EDI standards support: Boomi EDI supports all a wide variety of EDI standards including X12, EDIFACT, HL7, RosettaNet and Tradacoms. Boomi provides a library of EDI document types that can be visually mapped to transfer data to or from your back-end systems.
Full acknowledgement and error handling: All EDI communications through AtomSphere are tracked for reconciliation purpose, so you can see the status of all documents exchanged with your trading partners — you also have the ability to automatically or manually resend documents that were not successfully transferred.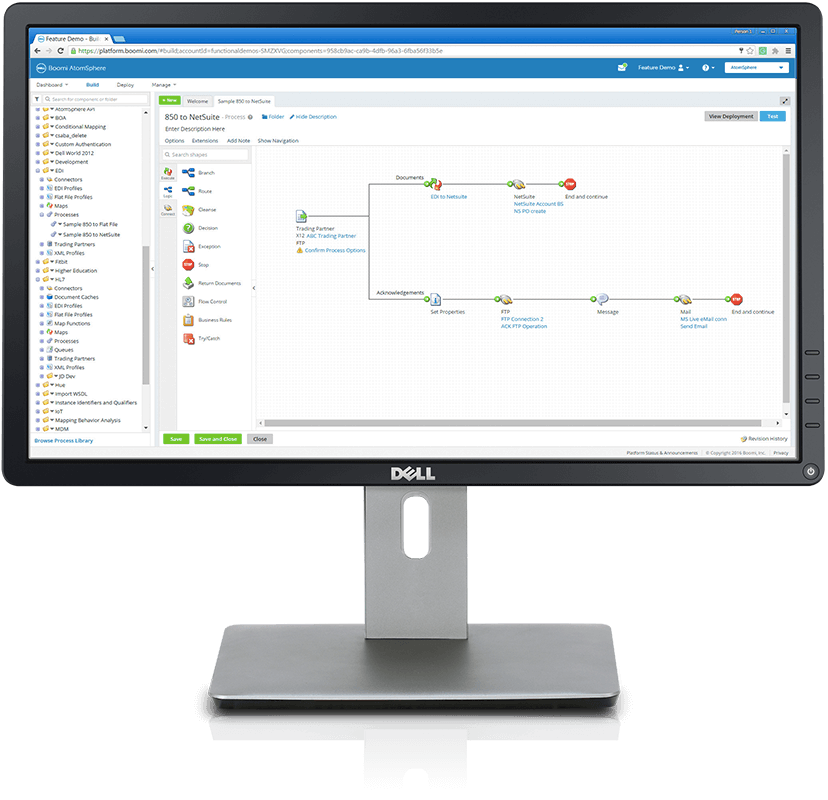 Get Started with Boomi EDI
Let us work with you to prove that Boomi provides a better way to do EDI.