October 10th, 2018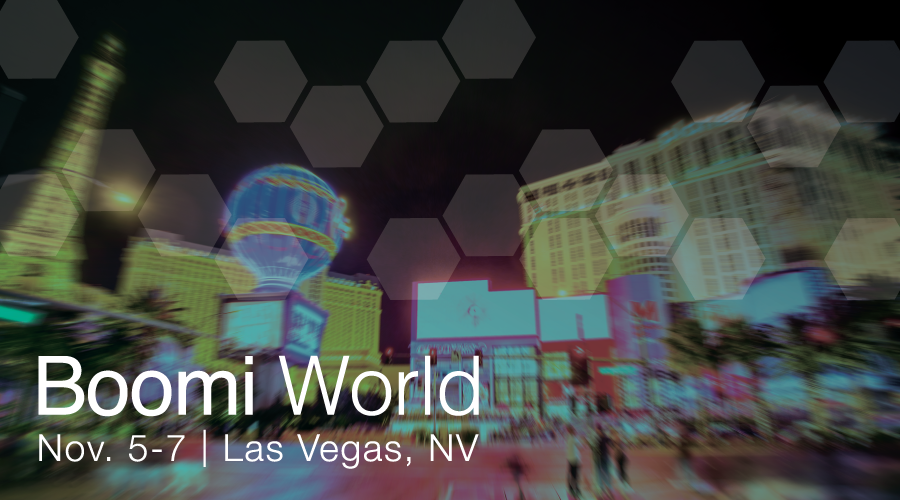 When it comes to application and data integration, many enterprises are saddled with legacy middleware and architectures that stifle innovation and slow response to changing market pressures. If that sounds even a little familiar, you definitely want to attend Boomi World 2018 November 5-7 in Las Vegas.
Big enterprises face big challenges, and at Boomi World, you'll find insightful and inspiring educational sessions that can help you overcome those barriers to reaching your business goals. You'll hear from Boomi integration experts and our top customers to learn how to take advantage of integration platform as a service (iPaaS) for gaining control of your sprawling enterprise hybrid IT infrastructure.
Here's a line up of some the best sessions for IT and business leaders grappling with integration at large organizations. To see all of our sessions, check out our line up at Boomi World online.
Integration Center of Excellence: Unlock New Value for IT and Business
A center of excellence (CoE) focused on integration delivers new cost efficiencies, better business processes, regulatory compliance and digital transformation. Is it time to create an integration CoE in your organization?
Join us to learn best practices for setting up and maintaining an integration CoE and what it can offer your IT and business teams. You'll also hear from Gilead Sciences and a multinational energy company. Both companies improved IT and business performance by implementing integration CoEs.
Capacity Planning: Getting the Most From Your Boomi Environments
Enterprises face increasing pressure to innovate, optimize operations, and support agile business practices. All of which depend on data, data integration and data governance.
By adopting a practice of continuous integration/continuous delivery (CICD), IT organizations can ensure that DevOps initiatives are never hindered by data silos, data connectivity problems or poor data quality. Your Boomi integration platform helps you overcome these challenges.
In this session, you'll learn about integration CICD best practices, how to provide automated testing, and frameworks around CICD pipelines.
The Role of Enterprise Architects in Digital Transformation
Enterprise architects are at the front lines of digital transformation, yet they face challenges around processes, people and technology. Join Boomi's top enterprise architect for a deep dive into making the best use of Boomi to unleash the true value of your enterprise architecture.
Learn about the key architectural considerations for your road map and engage in an interactive audience Q&A. You'll also hear a leading hotel chain executive outline how Boomi has helped the organization align and synchronize resources across its architecture to improve the customer experience.
Boomi's Enterprise-Grade Platform: Security, Compliance and Data Management
The Dell Boomi iPaaS was designed and implemented as an elastic, multi-tenant and secure enterprise platform. Learn from Boomi's chief information security officer (CISO) and product managers how Boomi achieves security and compliance with data management.
Topics covered will be GDPR, PCI, HIPAA, FedRAMP and how Boomi meets other compliance needs in the data center and the cloud, including Amazon AWS.
IT Transformation: Synergies with Dell Technologies + Dell Boomi
To modernize systems and business, IT transformation depends on seamless information flows and governance from the core and the edge to the cloud.
At this session, you'll learn how Boomi and Dell Technologies work together to make IT transformation a reality across every aspect of today's complex, hybrid IT environments. Dell Technologies experts will outline how Boomi aligns with Dell offerings, including EMC, VMware, Pivotal, RSA and SecureWorks technologies.
Mastering Smart Data Management, Stewardship and Governance
Data custodians and stewards often take an after-the-fact approach to cleaning up master data, which can slow business processes. Instead, data management programs should employ proactive decision-making to keep up with the speed of business.
Join this session for insights into defensive and offensive strategies for mastering data efficiently. Learn how you can use Boomi Flow to engage with the business for critical data stewardship tasks. PCL Construction will share its story of adopting Boomi Master Data Hub as the core of a master data management program.
Selecting the Right Boomi Architecture and Integration Patterns for Your Business Needs
As you build an enterprise integration strategy, it must include the right architecture to meet application and digital transformation requirements. This session will help you identify the correct Boomi architectures for real-time, batch and event-driven integration patterns and the most common architecture designs (hybrid, cloud and on-premise).
Plus, you'll hear from SAS Institute representatives on how the analytics software vendor created integration standards and principles to effectively manage their global technology footprint, including more than 900 cloud and on-premise applications.
Join Our Customers, Partners, Product Experts and Thought Leaders
Boomi World 2018 features a jam-packed agenda with dozens of breakout sessions, plus inspiring keynotes, customer success presentations, 1:1 workshops, a solutions expo, networking events and after-hours entertainment.
Whether you're a novice or an expert, there's no better way to learn about the Boomi integration cloud and gain new insights for better managing your cloud and hybrid IT environments.
Learn more at Boomi World online and register today!
About the author: Myles Suer is Dell Boomi's enterprise marketing manager.