November 12th, 2013
Dell Boomi works closely with NetSuite to align our solutions with the business needs of their growing customer base. As a SaaS-based ERP solution, NetSuite can very naturally take a central position in two particularly crucial business processes: quote to cash and trading partner enablement (also commonly known as EDI and B2B). We've just published two new product tour videos that demonstrate exactly how Dell Boomi AtomSphere enables these business processes.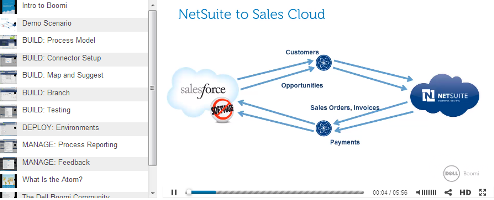 Having a quote-to-cash process means seamlessly, bi-directionally connecting sales and account activities with fulfillment and finance operations to improve service and profits. Our NetSuite-to-Salesforce self-guided product tour walks you through the various Dell Boomi features that allow your company to simply and quickly enable a quote-to-cash business process with NetSuite.
EDI has been the B2B integration standard for at least two decades, and our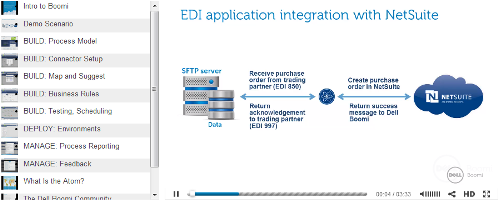 NetSuite-to-EDI self-guided tour shows how to incorporate NetSuite into your trading partner systems using Dell Boomi's versatility and range when it comes to EDI.