October 24th, 2014
In the wake of mergers and acquisitions, as well as today's emphasis on value-based care, healthcare and life sciences organizations need access to patient data from many disparate systems. The result? A hybrid IT environment—composed of any combination of legacy, cloud and on-premises systems.
But that's not the only challenge healthcare and life sciences organizations face. Whether we're talking about payers (health insurers, Medicare, pharmacy benefits management), providers (hospitals, clinics), or life sciences companies (pharmaceutical companies, contract research organizations, labs), these organizations must:
Balance tremendous cost pressures while working within and among a wide array of systems.
Follow a host of regulatory and compliance requirements—requirements that frequently change, making the case for flexibility and agility like never before.
Share data between systems, and also eliminate data silos that lead to duplication and confusion.
And let's not forget security—the highest security standards must be upheld, too.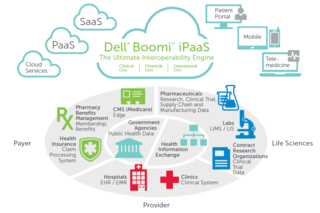 This crucial need for interoperability is addressed by Integration platform as a Service (iPaaS). iPaaS offers healthcare and life sciences organizations the flexibility to integrate disparate systems, whether in the cloud or on premises.
And if you can couple that with a master data management (MDM) solution that provides a "single version of the truth," all the better, right?
Learn more about the interoperability challenges of healthcare and life sciences organizations, and how iPaaS meets these challenges.