July 23rd, 2013
Chris McNabb, General Manager of Dell Boomi, was interviewed at Cloud Slam 2013 last month. He explained the significance of integration and Boomi in a healthcare market looking to cloud to help meet its new mandates for Collaborative Care, Patient Portability, clinical data, and health information and insurance exchanges.
At Cloud Slam 2013 last month in Santa Clara, CA, we had the chance to meet and talk with application and data professionals in the healthcare and life sciences industry who are leading adoption of cloud and cloud models at their organizations. New requirements for medical record-keeping, information exchange, and the portability of patient data have put huge cost pressures on healthcare IT, and this, combined with the U.S. Federal government's Cloud First policy and other similar initiatives around the world, has quite suddenly made cloud solutions very attractive.
In this context, Dell Boomi General Manager Chris McNabb explained at the show why healthcare and life sciences organizations have started adopting Boomi, and what we see as our role in their adoption of cloud. As Chris put it, "When you look at the requirements to share data, we look at that and think, cloud can solve that problem very well. So we believe we are a natural fit for this market, Dell Boomi itself being an integration platform."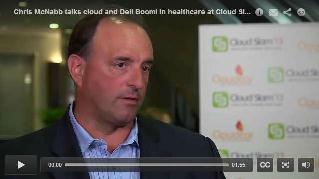 It's worth noting that the benefits here go beyond just enabling adoption of cloud in order to be able to control costs. Healthcare IT is strongly focused today on improving "system interoperability"—its term for application and data integration—because that is key to meeting the new Patient Portability, Meaningful Use, and Collaborative Care mandates. So if cloud means newer, faster, and more versatile achievement of these, then what Boomi is really doing is preparing healthcare for its future, in terms of both technology and public policy.
Systems in the healthcare sector are already unusually large and complex, not just because of the growing volume of data, but because of that data's wide variation (from high-resolution images to claims transactions) and its bewildering network of users and endpoints (from doctors and labs to insurance companies, government agencies, and hospital networks).
How do you adopt a new platform into this complex, high-visibility environment without creating exploding timelines or massive indirect costs?
We believe that the value of a modern, cloud-enabled integration strategy in addressing these issues is frequently unappreciated, especially when it comes to adoptions, migrations, and upgrades to the application and data architecture. That may be less true in healthcare and the life sciences, however. There, the pressure-cooker of regulation and cost is shining a pretty bright light on integration's benefits.