April 23rd, 2015
Dell Boomi's extensive customer base, solid renewal rate, and relatively high maturity are recognized
In announcing its first Ovum Decision Matrix: Selecting an Integration PaaS (iPaaS) Solution, 2015-2016, the global analyst firm Ovum has positioned the Dell Boomi AtomSphere platform as a Market Leader.
Ovum defines its Market Leader category as an iPaaS that is "worthy of a place on most technology selection shortlists."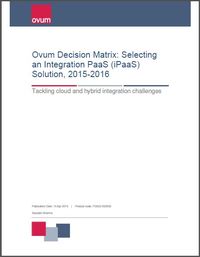 "Dell Boomi achieved high scores across technology, execution, and market impact evaluation dimensions of Ovum Decision Matrix for iPaaS—this combined with the capability of AtomSphere iPaaS to support hybrid integration use cases—including on-premise, cloud, B2B, mobile, and legacy integration—positions the company well for European and global expansion," said Saurabh Sharma, Senior Analyst, Infrastructure Solutions at Ovum and author of the report.
In addition to a commanding market position, high maturity, good innovation and enterprise fit, Ovum evaluates a leader's ability to address a wide range of integration use cases, and to execute on an aggressive product roadmap and commercial strategy to drive enterprise adoption and business growth.
"Recognition as a Market Leader in the first Ovum Decision Matrix for iPaaS is a direct result of our successful focus on expansion in Europe," said Chris McNabb, general manager of Dell Boomi. "Our investments over the past few years, including EU data privacy compliance, our London EU cloud, and regional SI partnerships, have resulted in a dramatic increase in demand for Dell Boomi AtomSphere across Europe."