October 7th, 2014
If maximizing business agility and speeding time to value for new technology solutions are prompting your organization to consider cloud services integration (CSI), you'll want to read how LinkedIn leveraged Dell Boomi AtomSphere® in the Gartner report, "Selecting the Most Suitable Platform for Cloud Service Integration."
In the report, Gartner analysts Massimo Pezzini and Benoit J. Lheureux first point out that choosing between on-premises, as-a-service,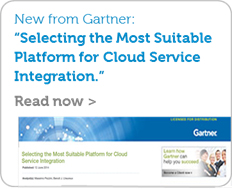 or a hybrid integration platform requires balancing business and technical needs, as well as strategic considerations.
As described in the report's client case study, LinkedIn selected the Dell Boomi Integration Platform as a
Service (iPaaS) solution in late 2011 as its strategic integration platform to address business line integration needs. For LinkedIn, the decision was primarily driven by the ease of use and rapid development characteristics of the Dell Boomi iPaaS, as some of the other integration platforms evaluated at the time required quite deep development skills.
In the analysis, Pezzini and Lheureux note that you may want to consider using an iPaaS if:
time to integration is critical
your organization requires an adaptive integration approach
there are moderately complex technical requirements
a number of SaaS applications must be integrated.
We invite you to download the full report with our compliments.