April 22nd, 2015
In a new report that analyzes the Dell Boomi API Management release, 451 Research notes that our new API Management solution brings comprehensive capabilities and messaging that will help Dell Boomi "maintain its market leadership position as iPaaS and API management market continue to converge into common frameworks for hybrid and multi-cloud integration and management."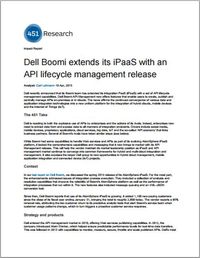 451 Research cited us as an early entrant to the integration Platform as a Service (iPaaS) market, and noted that our mature platform has a broad and growing base of customers. They also noted that we have high renewal rates and low churn.
The report also noted that Dell Boomi API Management also "exposes the larger Dell group to new opportunities in hybrid cloud management, mobile application integration and connected device (IoT) projects."
Read the full report:
Dell Boomi extends its iPaaS with an API lifecycle management release.