As the use of APIs has become increasingly popular – both for accessing data, as well as making data available to customers and partners – the need to govern their usage becomes increasingly important.
Boomi API Management provides a single, scalable platform to manage all your APIs through their entire lifecycle. It provides a centralized online environment to control the creation, deployment and management of APIs that will be used across a variety of business functions.
Rapidly create and publish any endpoint as an API
Publish APIs for use on-premises or in the cloud
Effectively control each APIs lifecycle with versioning
Manage and monitor web services in a single environment
Manage APIs and application integrations in a unified platform
Boomi API Management is 100% cloud-based, available through the Boomi platform. Its single-instance, multi-tenant architecture provides a
centralized location for managing all your APIs and monitoring their usage.
CREATE
Build APIs through a visual interface that requires no coding, using a set of high-productivity design and development tools.

PUBLISH
Deploy APIs for use on-premises or in the cloud, with comprehensive security and authentication options.

MANAGE
Control all aspects of your APIs, including testing, versioning, and monitoring their usage.
Empowering you to
leverage the API economy.
Boomi API Management supports the needs of your organization to connect data between applications, clouds, and devices:
API Gateway: Leverage a centralized, consistent method for authentication and accessibility of your enterprise services.
Application Modernization: Unlock legacy systems data for easy consumption by new applications.
Data Sharing: Extend the reach of enterprise information and services to external business constituents, such as vendors, partners and customers.
Mobile Enablement: Support mobile services through integration of disparate back-end data sources.
Internet of Things: Provide a secure and scalable way to deliver real-time information from connected devices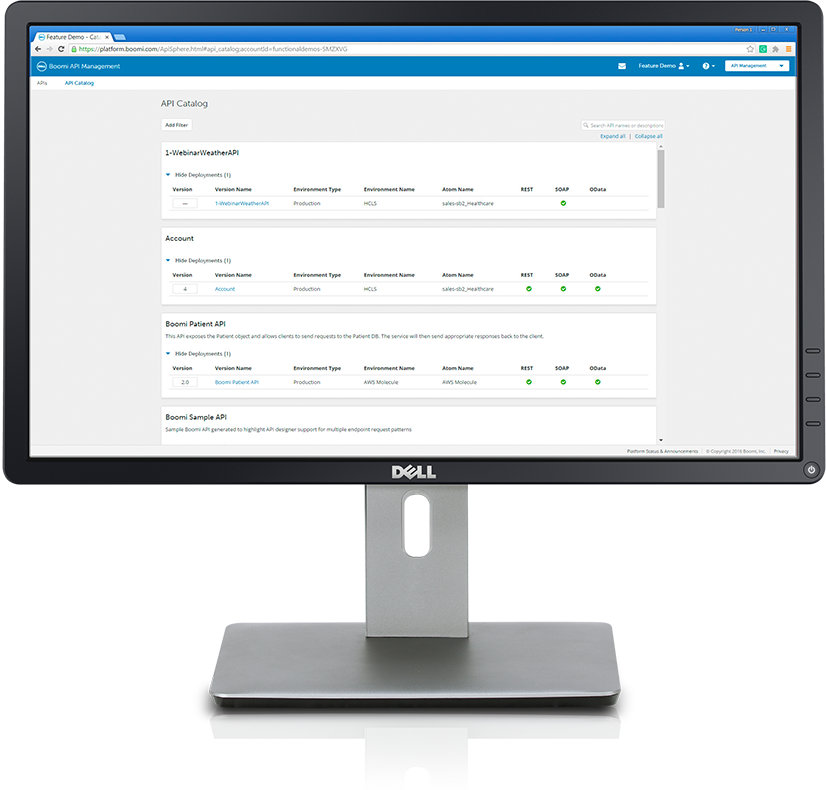 Get Started with Dell Boomi API Management
Want to learn more about how Boomi can help you with your APIs?